Have you ever wondered why some of your marketing methods really don't work? Here are the 10 levels of intimacy in today's communication, and if you're able to understand each of these well, you can get better at your overall marketing efforts.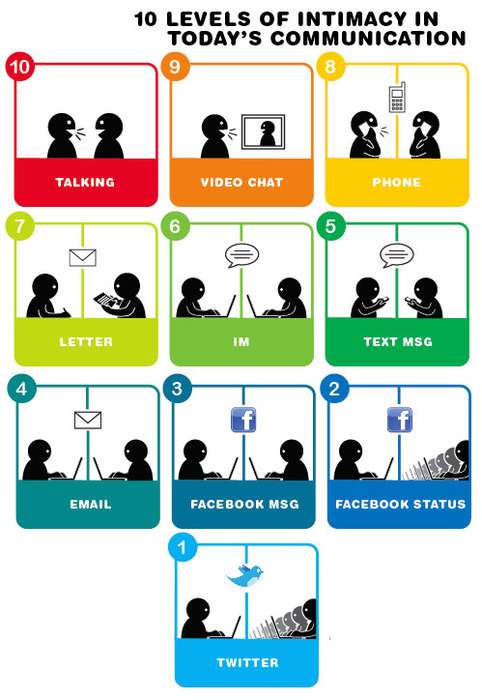 Key Tips On Powering Up Your Communication

1. Twitter 
Remove all those RSS feeds and auto-tweeting features
Stop following bots
Do more direct-messaging and build relationships
Use Twitter search more effectively to find your target markets
2. Facebook Status
Use more visuals and graphics in your status updates (a combination of Graphic + Text is best)
Be consistent
Learn how to post at the right time on Facebook
Use your Milestones more effectively
Get more comments and shares
Thank the people who have commented on your post or add to their insights
The more engaging you are the better your marketing
3. Facebook Message
Avoid sending links to people when you direct message them for the first time
Ask more open ended questions like.. "What to you do for a living?"
Build relationships
If you're messaging a family member or a friend about an opportunity, start with an open ended question first – "Hey.. how you doing? Long time.. I've got this new pet project going and wanted to share it only with a few special people in my circles. Would you be keen to review it for me.. ?"
Direct messages can have link to your fan page
4. Email 
Setup a good auto-responder system like Aweber
Send your emails at the most appropriate time for better open rates
Write your emails in a very personal and conversational tone
Send emails frequently – 1-4 times per week (keep your list engaged)
Ramp up your email open rates by choosing good subject lines and intro text
5. Text Messaging 
If you phone has a feature to create SMS groups.. do that now.
Text different groups with different targeted messages/language
Don't always try to sell stuff via text
Send text messages at times when people can read properly and take action
6. Instant Messaging
Tools like Live Messenger, Google Talk & Facebook Chat
Great for building relationships and being in touch with friends and family
Great for customer support
7. Letter (Direct Mail)
Extremely powerful and it's a BIG DEAL today
Send letters in a way that it does not look like an offer or ad
Hand write the TO and FROM addresses for extremely high open rates
Make sure your copywriting connects with your prospect
8. Phone
If you've got the gift of the gab.. great! If not read this.
Build rapport first by asking open ended questions
Qualify first before selling anything
9. Video Chat
Use tools like Skype and Google Hangouts to build relationships
Extremely powerful to build a personal connection
Search on Google for meeting schedulers to optimise your time better
10. Talking (One-on-one)
This is by far the most powerful form of communication with the highest level of intimacy
The best marketers are those who have mastered the art of face to face selling first
Find out your prospects pain points, and address those with solutions that your product/service is able to offer
If you are able to approach each of these different communication methods differently, as mentioned above, you can aure see better results in your overall marketing efforts.
This video has some killer direct response tips that blew my mind away. Don't be surprised if you shell out $25 by the end of it. It's worth it…
Related articles