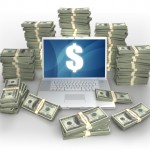 I just stumbled by Seth's blog the other day and got away with 21 profound thoughts about the whole "Make Money Online" market. Seth Godin is no dummy to be talking about this topic, as he is one of the pioneers in the online content marketing game, having written tons of books on this subject – and walked the talk. Which means.. we really need to take his words seriously.
From his 21 different points, I have picked my top 10 over here. Click on the video below, as I explain my thoughts about this more elaborately.
Here's 10 Ways On How NOT To Make Money Online
Don't Google for this phrase. The first step is to stop Googling things like, "how to make money online." Not because you shouldn't want to make money online, but because the stuff you're going to find by doing that is going to help you lose money online. Sort of like asking a casino owner how to make money in Vegas…
Don't quit your day job. Start evenings and weekends and figure it out with small failures.
Don't be mediocre. Become the best in the world at something that people value. Easier said than done, worth more than you might think.
Don't ignore the offline game. First start making money offline. If you can figure out how to create value face to face, it's a lot easier to figure out how to do the same digitally. The web isn't magic, it's merely efficient.
Don't forget adding value in every piece of content that you create. Build an online legacy that increases in value daily.
Don't pay anyone for simple and proven instructions on how to achieve this goal. In particular, don't pay anyone to teach you how to write or sell manuals or ebooks about how to make money online.
Don't sit on that couch all day. Learn. Ceaselessly. Learn to code, to write persuasively, to understand new technologies, to bring out the best in your team, to find underused resources and to spot patterns.
Don't chase yesterday's online fad.
Don't look for shortcuts. Hang out with people who aren't looking for shortcuts. Learn from them.
Don't think that your bank accounts are going to get filled by the time you wake up tomorrow morning. Get rich slow.
After burning my hands in practically tons of online scams, I'm really picky and choosy about online opportunities.