Facebook has over 1 billion population and if you are looking to generate free leads for your home based business, this can be one of the most powerful tools, if done right.
In this post I cover the 5 simple steps that I use to generate free leads consistently using Facebook.
Step 1 – Setup an Attractive Personal Profile
The biggest mistake home business owners do is have their Facebook profile completely focused on their 'great' little opportunity. This can put off a lot of people and can be counter-productive at most times.
Here are some tips for setting up your personal profile:
Have a good profile pic and cover image (no promotional images)
Your wall should be inspiring and completely value-driven
The more value you give to your market, the higher the chances you can generate free leads
Your wall should have a combination of personal experiences, valuable information and subtle sales messages
Step 2 – Use The Powerful Graph Search
Not many home based business owners realise the power of the graph search to generate free leads. You can actually search for your friends who like a 'Home Based Business' and you can start building a connect with them. You can also search by age group, location, gender and many more cool filters which can help you refine your search.
In fact here's a really cool article by Raven Tools on how to effectively use the Facebook Graph Search engine.
Step 3 – Start Building Relationships
To generate free leads and convert those leads into sales, there has to be a high level of trust and rapport built first. Here are some quick tips on how to quickly build relationships:
Never pitch your business opportunity immediately to your friends
Always ask open ended questions and get to know more about them first
Generate just enough curiosity so that they ask you about your home based business opportunity
Use Youtube videos to build a personal connect before you send them to your lead capture page
Here's an example of a message I sent to one of my known connections, after building a good rapport, using the above guidelines.
How I Use Facebook Messages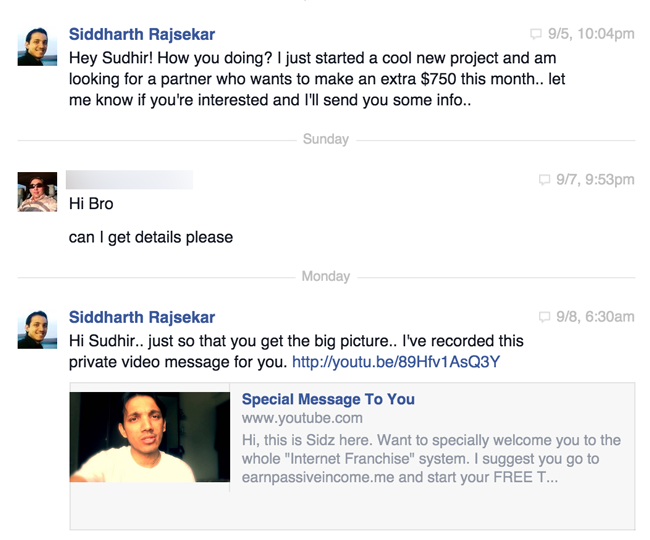 If you notice, I first pre-frame my prospects before they become a lead. That way, they know what to expect and I also get better conversions compared to somebody else promoting the same opportunity on Facebook.
The general trend these days is that home business owners directly paste their opportunity affiliate links on their walls and Facbeook groups.
But to stand out as a marketer, follow the above steps and you'll see better results in your business. It will take you 30mins to 45mins a day but well worth it.
Step 4 – Set Your 90 Day Challenge – Don't Break The Chain
I'm current doing my third 90-day challenge and I'm getting even better results than the last one. The most important thing in a home based business is setting up your personal discipline in place and there's a really cool concept called "Don't Break The Chain".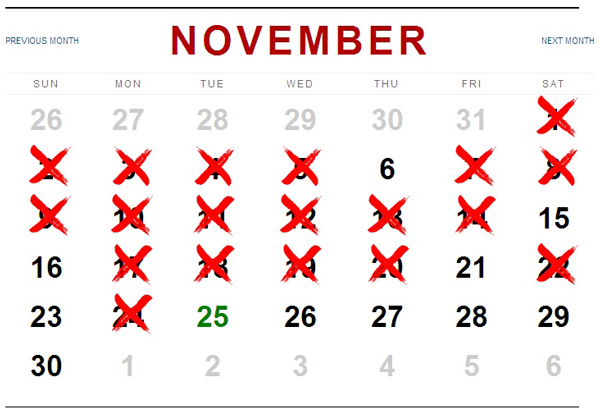 Just look it up on Google and you'll see many articles on this. It's basically a way you set a daily discipline of getting done consistently.
To generate free leads using Facebook for your home based business, I suggest the following routine:
Message 30 people per day on Facebook
Reply to messages daily on Facebook
Send an email to your list everyday
I have also written some email marketing tips for home based business owners.
Step 5 – Don't Give Up – Go For It!
While I was actually studying some of the shocking stats about the home based business industry, and close to 95% of people who start their business fail because they give up!
Making all the plans and setting up your routine is great, but following through and ensuring that you actually get through the 90 day challenge the is biggest thing.
If you send 30 messages a day on Facebook for 30 days in a month, you would have connected with 900 people in a month.
Out of that 900, even if 100 people become qualified leads that's great progress! And out of that 100, even if 20 join your home based business, you have a winning formula.
With over 1 billion people on Facebook, you are never going to hit a saturation. The key here is in finding innovative ways to present your message. Using videos will easily help you overtake your competition.