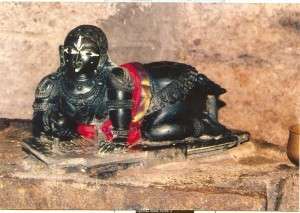 It's not always that you get to see places that are over 3000 years old. Vanita and I visited this placed called Channapatna, which is a few hours drive from Bangalore.
Here's we actually saw the form of the 'Crawling form' of baby Krishna, which is supposed to have been self-manifested form.. not carved or created by any man. This baby Krishna who is also called as "Ambegal Krishna". This is one of the rare forms of deity which you get to see in this temple and is surely a sight to behold.
This temple of Lord Aprameya is an ancient one and dates back to 3,000 years but some local records say that the temple is not less than 1500 years. The temple is built in the Dravidian style as one find the beautiful pillar standing tall and strong. The sculptures from the Dasa Avatar adorn the side walls (Madal) of the Raja Gopuram. The main door is about 30 feet high. Opposite the main door is a tall lamp pillar made from a single stone.
One of the unique features of the temple building is that it stands on sand and not on any solid foundation.
Share your comments below on "WHAT YOU THINK ABOUT THIS VIDEO?"