A Squeeze Page, also known as a Lead Capture Page, is a webpage that is designed to capture the information of its visitors such as Name, Email Address via an Opt-In Box in exchange for a Product or Service for FREE. E.g. An E-book, A Report, A Video Tutorial etc.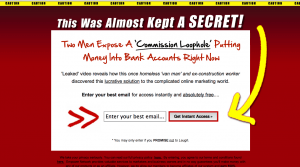 The objective for building a Squeeze Page is to attract quality and targeted Leads and eventually, convert them into your primary business.
Hence, the free gift that you offer should also be very relevant to what your targeted prospects would be searching for on the Internet.
Two most important components that a Squeeze Page MUST HAVE are Simplicity & Effectiveness.
So, let's go on to the 8 factors necessary for creating a Highly Converting Squeeze Page for Attracting Targeted & Quality Leads For Your Business:
1. Benefit Driven Headline
The headline is the most important factor that would determine the effectiveness of your squeeze page as this is the first contact that your visitors would have. This alone will determine if your visitors will even continue reading your text. Hence, the headline should be totally Captivating and Attention Grabbing and ideally should instantly promise a benefit for its readers to continue reading and eventually opt in to your email list.
2. Emotionally Powered Body Text
The body text of your squeeze page should be in bullet points and brief, not in paragraphs or huge chunks of texts. This should outline what your visitors would get if they opt in their information in your opt in box. This should talk about the key benefits they will get in return for sharing their information and how it can immensely help them. The text must emotionally connect with the reader. E.g. A FREE E-book, A Detailed FREE Report etc.
A simple way of writing your body text is to research on the top 3 to 5 things that the market is hungry for, and give SOLUTIONS for those in your squeeze page.
3. A Valuable Freebie/Giveaway
As mentioned in my earlier point, there should be some sort of a take away for your visitors on the squeeze page, if you want them to give you their information. This should be either something that they're already searching for or something that can benefit them immediately.
4. A Prominently Placed Opt In Box
The Opt In Box or the Lead Capture Box in your squeeze page should be prominent and clear. It should capture their Name and Email Address with a Compelling Action Phrase to get them to sign up. What usually people have is "SUBMIT", "SUBSCRIBE" etc. But, what works more effectively is if you have phrases such as   "SEND ME MY FREE REPORT NOW", "FREE INSTANT ACCESS", "GRAB YOUR FREE E-BOOK" etc. This will increase your Conversion Rate considerably.
The Conversion Rate means the number of people who subscribe to your squeeze page out of every 100 people who visit your site. E.g. If 20 people out of every 100 give in their details, then your conversion rate is 20%. Here's how to choose a good auto-responder for your opt-in box.
5. Squeeze Page Privacy Policy To Build Trust
This is extremely important for you to have on your squeeze page as people are giving you their personal information. By default, your visitors will want to see the Privacy Policy on your website before they give their details. This would help build their trust in you.
6. Video That Connects With Your Prospect
Some people prefer putting videos on their squeeze page instead of plain text. I personally feel this establishes a deeper connection with your audience. They can see who you are, and it's definitely more interesting to watch a video than read text. In case you decide to go with this option, ensure that your video opens on all browsers and streams quickly. You can also upload your video on Youtube and paste the embed code on your squeeze page.
7. Simple & Elegant Design
The Layout or the Design of your squeeze page should be simple and clear. Avoid having too many banners or flashy stuff as this could make it look like a scam. Just have a Heading on the top, the Benefits on the left hand side, the Opt-In-Form on the right hand side parallel to your benefits and then finally a Privacy Policy right below the benefits and the opt in form.
8. Testimonials – Social Proof
This is a feature not all Internet Marketers use. But, I have used this in my squeeze page and have gained enormous results with it. It basically becomes your social proof and helps convert people instantaneously into your business.
So, that's how simple it is to create an effective squeeze page.
In case you want to see how I have created my squeeze page, visit:

http://quitworkingsomeday.com/