Many folks keep asking me what are the best tools that I would recommend to run a successful online business. There are tons of tools out there, and thanks to the internet, I have put together the Top 20 tools that most successful online business owners use today.
Many of the tools I mention below are free, however there are a few which are paid or have a paid option, but where possible I've also tried to provide a free alternative. You don't necessarily need to go out and grab all these tools now, but just take a look at how we are using them and see what would benefit your business to make it run more effectively.
I hope you find this list useful – please post your comments below and let us know what tools you are using in your business that you would recommend to others!
Before You Continue…(limited time)

Aren't You Tired Of Watching Everyone Else Make Money On Facebook But You..?
#1 Gmail (Email Management)
Gmail is at the core of many online businesses (Google Apps) and businesses use it every day for communicating with business partners, teams and other service providers. I know there are many different free email providers out there, but since I switched to using Gmail I haven't looked back. As well as providing a large inbox capacity, they also have a great interface (recently revamped) and many useful filtering tools for helping you manage your email better, as well as a powerful spam filter.
Essential Tips for Gmail:
Use the email filters and create labels to filter your messages into sub-folders based on their sender or subject. In our business we have an "Action Required" folder so anything which requires our action (like domain renewals, Paypal communications etc) is filtered into this folder/label for immediate action. If an email from a new sender hits our inbox we will always create a filter for it to ensure it goes into the appropriate folder.
Filter out the "noise" into a sub-folder. If you are getting lots of daily promotional emails in your inbox, think about filtering these into a subfolder where you can check them once a day or once a week – this will reduce the time spent in your inbox and make your day more productive.
Check out the Gmail Labs section (go to Settings > Labs) where you can find lots of cool free add-ons for Gmail. I recommend the "Send and Archive" and "Canned responses" add-ons
Link: http://www.Gmail.com
Type: Web Based (works in all major web browsers)
Price: Free

#2 Evernote (Project Management)
Evernote is a really awesome note taking application that is available for Mac, PC and also available on mobile devices. Although it's designed to store notes and ideas, we use it as a complete tool for storing all our project ideas, notes, plans, checklists and much more.
The fact that it syncronises across platforms means that if you are working on your MacBook Pro and switch over to a PC or another system in your business, you can still have instant access to your notes and files from the other computer – this is a hugely important feature for us. The system also allows you to share notes with other team members which is great if you are collaborating on projects (this feature is part of the paid upgrade)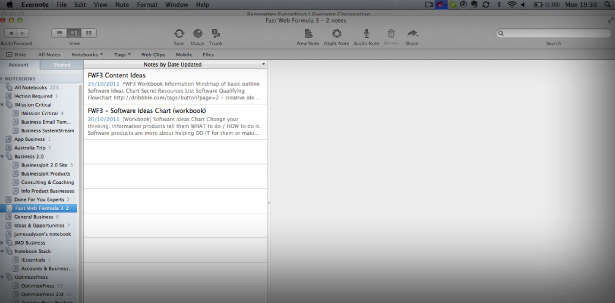 Essential tips for Evernote:
Organise your projects into "notebooks" which basically means you can store multiple notes within each notebook which all relate to the same project, product, website etc.
You can tag your notes to help you find archived items more easily – we use specific tags for different projects and also for note types – e.g. ideas, plans etc
Link: http://www.Evernote.com
Type: Mac, PC & Mobile versions available
Price: Free (Premium upgrade $5/month gives you more storage and more search functions)

#3 Skype (Communications)
If you don't already use Skype, I'm not sure where you've been hiding for the past few years. Skype is the de-facto standard for online communications and allows you to communicate with other users for free, anywhere in the World. You can use talk, text chat and even video calling to share ideas, collaborate with remote team members or discuss anything you want. All you need is an internet connection and a microphone if you want to chat.
Essential tips for Skype:
Use the favourites list to be able to quickly call or message any of your regular contacts
Add Skype credit to your account for the ability to call phone numbers anywhere in the world at vastly-discounted rates
If you want to receive calls from customers or clients in other countries, consider purchasing a Skype number in their country which will allow them to call you from their phone direct to your skype at local rates for them. You can even setup phone numbers in all the main countries you sell to if you want to offer an easy contact number for your customers in those countries.
Link: http://www.Skype.com
Type: Mac, PC & Mobile versions available
Price: Free (You can purchase Skype credit or other addons from their website)

#4 Keynote / Powerpoint (Product Creation/Sales Video)
Keynote is the system I use to create all of the slides for my video trainings. I also use this for creating sales video slides like the ones you see on the QuitWorkingSomeday website.
If you combine Keynote or Powerpoint with a screen recording app like ScreenFlow or Camtasia (see below) and a microphone, you have an instant system for creating sales or training videos. Simply create your slide content, and talk through them as you go. This is probably the quickest way to create an information product and also sales videos created like this can convert great (often simple works best).
Link: http://www.apple.com/uk/iwork/keynote/ or http://office.microsoft.com/en-gb/powerpoint/
Type: Keynote (Mac) or Powerpoint (PC)
Price: Keynote (approx $20) / Powerpoint (part of Office suite around $200)

#5 ScreenFlow (Screen Recording / Product Creation)
ScreenFlow is a screen recording application available for Mac. With ScreenFlow you can record anything on your computer screen – so you can show product demos, records keynote presentations (see above), record processes to show to team members, and basically anything else you can imagine. You can also record audio and even webcam footage alongside your main screen recording to add even more value to your recordings.
I use ScreenFlow to record almost all of our training videos, as well as using it to record my sales presentations like you see on the QuitWorkingSomeday site.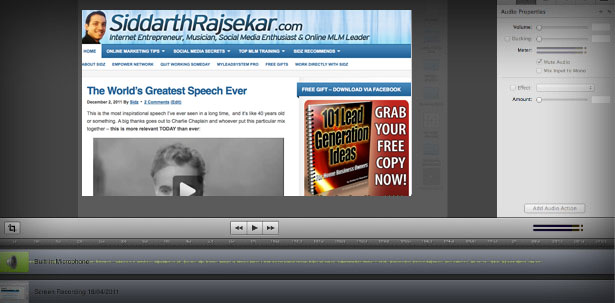 ScreenFlow also incorporates powerful editing features so you can cut, slice and move around elements, as well as importing additional audio and video into your recordings if you wish – making it a powerful all-round video editing tool.
Essential tips for ScreenFlow:
Keep recordings short where possible
Practice makes perfect – you might not get your recordings right first time but the more you do them the faster you can churn them out
Link: http://www.telestream.net/screen-flow/
Type: Mac App
Price: $99 (there is a free trial on the website)
Alternatives: Camtasia (PC/Mac), Jing (PC/Mac) or Screenr (Web App)

#6 Handbrake (Video Conversion/Encoding)
There are many different video conversion apps out there, but Handbrake is pretty much the only video conversion tool you need. Plus it's free! We use this to convert all of our source files which are output from ScreenFlow, Camtasia etc into web compatible formats. If you're an OptimizePress user you can find tutorials in our members area on how we use this tool in our business.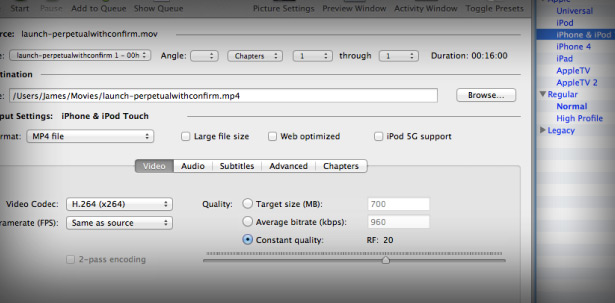 Essential tips for Handbrake:
Output to MP4 format for most web uses
Start with the highest quality source file you can (we output from ScreenFlow at max quality and then resize within Handbrake)
Link: http://handbrake.fr/downloads.php
Type: PC/Mac App
Price: Free

#7 Facebook (Social Networking)
It might seem a bit obvious to include Facebook here as I know pretty much everyone (and his dog) is on there, but it does form an important part of our business arsenal for us so I wanted to make this list as thorough as possible.
There are many distractions on Facebook, but it can also be put to good use within your business. For me it has two very important functions:
1. Interacting with my prospects/customers – I can interact with my prospects through my Facebook Fan Page (http://www.sidz.me/facebook) and get feedback on my businesses and online marketing efforts.
2. Build relationships with potential new prospects and promote my opportunities/products – I never use Facebook for blatent promotion of my business opportunity – but by building relationships on Facebook and having prominent links to your blog and products within your Facebook profile as well as posting about them on your wall occassionally, you can build a new fan base who can be converted into new customers or team members.
Link: http://www.facebook.com
Type: Web App
Price: Free

#8 Skitch (Screen Capture)
Skitch allows you to quickly capture and share screenshots from your Mac with anyone via the Internet. You can also build a collection of your screenshots by saving them into an archive, but the main beauty of this software is the ease of sharing any screenshot with anyone in seconds via the quick image share feature.
I sometimes use this in my business to share screenshots with prospects in support tickets and also with my remote downlines and teams.
Link: http://www.skitch.com
Type: Mac App
Price: Free
Alternatives: LittleSnapper (Mac), SnagIt (PC/Mac), Jing (PC/Mac)

#9 Rapportive (Gmail Contact Intelligence)
Rapportive is a very cool new add-on for Firefox and Chrome browsers which works with Gmail. This super smart add-on pulls in extra information about any one of your email contacts when you recieve an email from them – including information from social networks like Facebook, Twitter and other sources too.
It will also integrate with Aweber so you can see if the person emailing you is on any of your email lists (this can be very useful if you want to provide a personal level of service to your customers)
Link: http://rapportive.com/
Type: Firefox/Chrome Browser App
Price: Free

#10 Aweber (Autoresponder/Mailing List)
Building a list of subscribers or buyers is one of the most profitable things you can do if you're running an online business. This gives you a way to instantly communicate with those people that are potentially interested in products or services you have to offer.
It's important to use a professional service to store your lists of leads and buyers, so you can communicate with them without the worries of deliverability issues and spam complaints. I use Aweber for my online list building and I've always found them to provide an excellent service and excellent support.
Link: http://www.aweber.com
Type: Web App/Service
Price: $1 trial then from $19/month
Alternatives: Mailchimp, iContact

#11 Nanacast (Shopping Cart & Affiliate Management)
Nanacast is at the centre of our business and plays a critical part in the day to day operations of most of our websites. Essentially, Nanacast (combined with our payment processor Paypal) handles all of our transactions from the sales of our products. They also manage our affiliate network, so through Nanacast we can allow people to promote our products and be credited with a commission when they refer a sale to us.
This has been a crucial element in the growth of our business and I highly recommend that if you're not already giving people the chance to promote your product as an affiliate, you get yourself setup with Nanacast or a similar system very soon.
Nanacast also has a powerful API system which allows us to integrate with various other systems and scripts which means with the help of a programmer it can pretty much work with any system out there.
As well as being a powerful affiliate system, Nanacast also has a built in membership system so you can build secure members areas, drip feed content and much more.
Link: Nanacast
Type: Web App/Service
Price: From $97/month
Alternatives: 1ShoppingCart, Digital Access Pass

#12 Putler (Paypal Analytics)
If you're using Paypal to process a lot of your businesses transactions on a daily basis, you will know that their interface isn't the friendliest or fastest to work with. That's where this neat little app "Putler" comes in. Their system interfaces with the Paypal API and imports all your transactions as they happen.
The system also has built in graphics and analytics so you can compare previous sales data, track the effects of promotions and much more. You can also process refunds from right within the app, so you really don't even need to log into Paypal anymore – very cool.
Link: Putler
Type: Air App (Monthly Service)
Price: Plans from $9/month

#13 Wishlist/Digital Access Pass (WordPress Membership Management)
Businesses use Wishlist and Digital Access Pass on various sites to create secure membership areas within WordPress. Digital Access Pass has pretty much the same functionality as Wishlist but does have the advantage of a built in affiliate system.
Link: Wishlist / Digital Access Pass
Type: WordPress Plugins
Price: Wishlist from $97 / DAP from $167

#14 Basecamp (Project Management)
Basecamp is simply awesome for project management. If you are working on projects with any remote team members, Basecamp will make your life 100x easier. Basecamp allows you to create projects, to do lists, writeboards and everything you need to handle a project from inception to deployment from a simple easy to use interface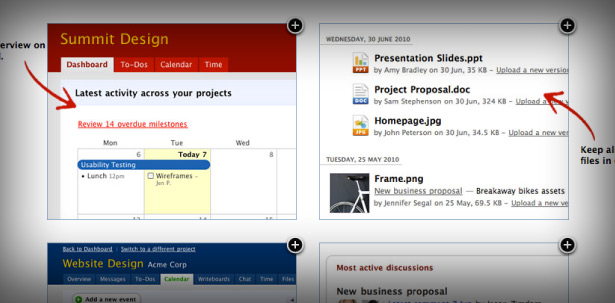 f you're not working with a remote team, you can probably manage with just Evernote, but if you want more advanced functionality with to-do lists built in, there really is nothing that comes close to Basecamp.
Link: http://www.basecamphq.com
Type: Web App (Works on all browsers)
Price: From $24/month

#15 Mindjet MindManager (Mind Mapping & Ideas)
Mind maps are an amazing way to brainstorm ideas, plan out projects and organize content before going into more detail. I use mind maps in my business to build frameworks of ideas for new business ideas before transferring the information into my project management systems .
Mind maps can also be a fantastic product creation and training tool. If you are educating your audience on a particular topic, you can create a mind map and record videos (using screen-recording software) of you going through each of the points on the mind map in more detail – so people benefit from visual learning as well as the audio.
Link: http://www.mindjet.com/
Type: PC/Mac App
Price: $399 (PC) / $249 (Mac)
Alternatives: Freemind (Free)

#16 Amazon S3 (Video Hosting)
Amazon S3 and their related services (Cloudfront) is one of the most popular cloud hosting services available on the web. It's also one of the most economical ways to host larger files for distribution on your websites and membership areas.
We use Amazon S3 and their Cloudfront Syndication service to handle almost all of our files that are hosted on our websites. This means our files can be streamed quickly to anyone no matter where they are in the world, meaning our visitors find our websites load faster and our customers can download our files more quickly.
Essential tips for Amazon S3:
Host all of your video content with Amazon S3 and use the Cloudfront service which syndicates your videos to Amazon servers around the World meaning your files load fast no matter where your visitors are located (You only pay Amazon S3 for the hosting and then Cloudfront for the bandwidth of downloads – but it's all billed together and you only pay for what you use)
Give your websites a speed boost by hosting images and other related files with Amazon S3
Link: http://aws.amazon.com/s3/
Type: Web App/Service
Price: Depends on bandwidth – pay as you go service

#17 EasyVideoPlayer 2 (Website Video Player)
EasyVideoPlayer is the brainchild of Josh Bartlett. He created EVP because he realised that most people were having troubles getting videos onto their websites easily, and furthermore, having difficulty ensuring these videos look good and play on as many platforms as possible.
EVP basically takes the hassle out of getting video onto your websites – with their slick easy to use interface you can link the software with your Amazon S3 account to stream your videos from their network, and then configure your video player to the style you want. The software then spits out an easy to use code which you can drop into any page.
Link: EasyVideoPlayer
Type: Web App
Price: $127

#18 FileZilla (FTP/File Transfer)
If you're uploading files to your web hosting, you need an FTP client. We use FileZilla, which is free and easy to use. Drag and drop your files from your local computer to your web hosting with ease through their system.
It's not the most exciting app in the World, but it does what you need!
Link: http://filezilla-project.org
Type: PC/Mac App
Price: Free

#19 Dropbox (File Backup & Sharing)
If there's one tool or service on this list that I could urge you to get more than most, it would probably be Dropbox. No matter what you're online business looks like, Dropbox provides an essential, potentially business-saving service.
Dropbox is a simple web service and app which creates a "Dropbox" folder on your computer. This Dropbox folder is continually syncronized with the Dropbox cloud storage servers and also to any other computers which you have running Dropbox with the same account. What this means is that you can instantaneously sync files across multiple computers through the use of Dropbox. You can also share files through the "public" folder if you need to quickly share files with remote team members or collaborators.
Essential tips for Dropbox:
I run ALL my essential business files through Dropbox. This means that whenever I update a file on any of my computer systems, it is instantly backed up to the Dropbox cloud servers and synced to my other computers so when I come to work on projects on our office computer, I already see the updates made on my laptops when I am on the move.
We also setup most of our apps to save their libraries to Dropbox. You can normally find tutorials on how to do this with most common apps with a little bit of help from Google.
Link: Dropbox
Type: PC/Mac App
Price: 2GB storage Free, 50GB $9.99/month, 100GB $19.99/month (larger packages available)

#20 GrooveHQ / Zendesk (Helpdesk & Customer Support)
Customer support and customer service is at the top of many business' priorities list along with always putting out consistently good products. In order to deliver great customer service, we sometimes need a little help from a few cool tools.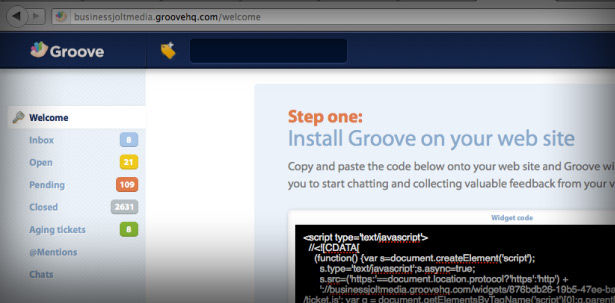 GrooveHQ allows us to provide a high level of customer support by allowing our various support team members to login and see all our support messages logged so no message is lost or forgotten (essential for your support solution). I am now evaluating Zendesk as another possible solution for my businesses.
Link: GrooveHQ , Zendesk
Type: Web App
Price: Groove Currently in Beta (Free), Zendesk From $9/month

Before You Go…(limited time)


Don't forget to check out the brand new version of Popup Domination 3.0 by clicking below:

Special launch price of $47 for the next 24 hours only (normally $77)
– Click Here to grab it now

With Popup Domination you can:

Create unlimited Popups on any website (they have a WordPress plugin and standalone script version)
Choose from 11 beautiful themes for your popups, and customize the text on every popup
Get in-depth analytics on how many people are seeing your popups and interacting with them
Do Split Testing – so you can test popups against each other to maximize conversions
Trigger different popups on different pages
Trigger advanced exit pops – these are great for your OptimizePress sales pages if you want to grab people who are leaving your pages

Click Here to check out Popup Domination 3.0 Now
I hope you've found this list useful, please post your comments below and let us know if you have any recommendations for tools you're using in your business. Remember you don't have to use all these tools in your business, but you should use what you need to accomplish your business tasks in the most effective way possible.
To your Success,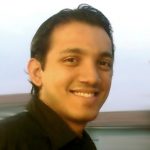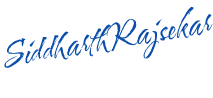 • Follow Me On Twitter – Click Here
• Check out my FB Fanpage – Click Here
• Wanna Work With Me? – Click Here