I love webinars! This helps me reach out to a large number of people in a short span of time. Below is a snap of my home office where I conduct my webinars from.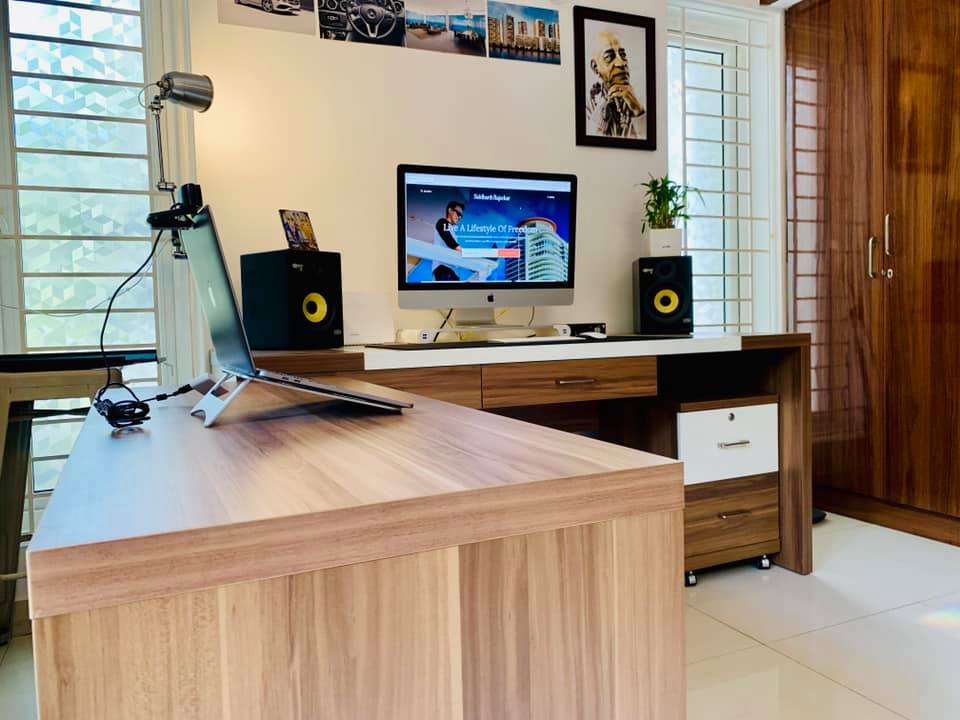 Whenever you are hosting a Webinar, there is a lot of process and preparation that you do to give your best show to the audience.
For a successful webinar, all small details imaginable must be handled meticulously like clear audio, easy user interface, excellent video quality, the comprehensive context of the video. You can also share the recording to the attendees, answer the questions of the viewers, and so on.
Even though you have an excellent content to share, if your video and audio quality are not up to the mark, they are going to ruin your impression, and your viewers might not come to see your webinar ever again.
HD camera in your desktop or laptop and along with in-built microphone can handle your routine Skype or video calls. But dedicated hardware to handle both tasks can give significant improvement to your storytelling.
When it comes to the webinar or live session, you cannot rely on the webcam or the mic of your systems. It would be best if you upgraded your gears to give worth watching experience to your attendees.
Here is the list of best webcam for streaming.
With 15 megapixels, this webcam has a glass camera that gives digital zoom. It also has auto-focus capabilities and can stream the videos in the quality of 1080p.
The camera works well on Chrome OS, iOS and Mac. You don't have to worry about its compatibility because of its support for the major operating systems. It has two dual stereo mics with automatic noise cancellation feature.
The camera works best for monitors, LCDs, and laptops and gives automatic low light correction. You can also mount the camera to the tripod to get the desired camera angle. With the cost of around 65 USD, this camera is a complete package.
With eight megapixels, this camera can give you 360-degree coverage. You can mount this camera on any decent tripod. With its unique design, this compact camera can be put inside the bag and use it anywhere as per the requirement.
The camera has autofocus capability and never misses a chance to give crisp and detailed videos shots to its users. It can record videos in Full HD resolution up to 1920×1080. Furthermore, if you want to go for video calling, you get your calls in 720p HD video through this camera.
This camera is a cost-effective option as it charges around 30 USD only.
The design of Microsoft LifeCam Studio gives it a commercial look, and so are its features. The camera has a wide angle lens and can capture more area in the video.
The sensor of the camera is capable of capturing sharp images and record explicit videos for webinars. You can record 1080p videos and stream video calls in 720p quality. The color reproduction and crispness of your video will give you excellent video quality in the webinar.
With 50 USD, from Amazon, you get stunning video quality from this multipurpose webcam. WideCam F100 has a 120-degree wide angle lens and has a built-in stereo microphone that can capture every minute details of a sound happening around it. So, you can avoid going for an external mic if you are using WideCam F100.
The camera can record 1080p full HD video with 30fps. Needless to say, you can also record 1080p HD video from this webcam and ensure that you give excellent user experience to your attendees.
The WebCam also comes with software that allows you to do basic post-processing. Moreover, you can capture significantly larger frames thanks to its 120-degree wide angle lens.
So, if you are broadcasting a conference or having a roundtable discussion where there is a group of people sitting across the table, you can capture everything through this wide angle lens.
Although Logitech BRIO does come with a much higher price, this premium product can be the best webcam for streaming. The camera has everything that a broadcaster can ask, High Dynamic Range, 4K video recording capability to mention a few.
You won't have to worry about the ambiance. The camera can adjust the color tones and make your frame look elegant in any light. It will take care of the contrast and brightness of your frames and give you a lively video output.
Certified by industry leaders like Skype and Cisco, the camera can give excellent output. You also get 5X HD zoom with three field-of-view options. Although for 4K video recording, you will need the USB 3.0 port in your system, the camera is compatible with Windows, Mac and Chrome OS.
This camera would be a great help for beginners. It is value-for-money because, under 25 USD, you will get the record and broadcast high-quality video.
The camera provides 720p video recording, and its user-friendly design makes the whole video conferencing and webinar experience smoother.
Moreover, you can easily attach this camera with your Windows systems and get stunning results by TrueColor technology which is used to produce optimum brightness and accurate colors for your video frames.
The sensor of the camera delivers 720p videos at 16:9 aspect ratio up to 30 frames per second.
In your webinar, if you want to broadcast a roundtable discussion or a group of people discussing the niche, you would need a wide angle camera along with multiple microphones which could catch the voice across the hall and provide excellent video and audio output at receiver's end.
The TY-CC20W Communication Camera does an excellent job and also works well with the TV. It has in-built four microphones that receive wide angle audio, and it records 1280×720 HD videos.
Moreover, you won't require any additional hardware or software requirements because it works with plug-and-play functionality.
FUVISION provides 1080p full HD live streaming feature with its camera. You can also record and store your videos at 1080p 30 FPS. The camera adjusts the focus by itself depending on the position of the subject in the matter and gives clear picture quality from your videos.
It supports Mac OS, Chrome OS, and Windows and also connects with a smart TV with Android 5.0 and higher.
This camera can have multipurpose usage with its dual built-in microphones. The camera captures the sound within the range of 32 feet while maintaining the details and clarity of the subject.
For YouTubers, gamers, executive professionals, and bloggers, this camera would be a complete package under 50 USD.
Now, if you are also planning to upgrade the voice quality of your webinar, you can consider these options and pick one best mic for streaming as per your needs.
This microphone has copper-wound and neodymium magnet that produces crystal clear sound and ensuring zero noise when recording.
It has a slightly higher price tag. However, if you are providing paid webinar or live course, you cannot compromise on the audio quality of your webinars.
This dynamic external microphone has quilted aluminum diaphragm which consistent audio quality throughout the stream.
This microphone by Yeti gives you plug-and-play feature and compatible with leading computer platforms like Mac and Windows. Through this, you will gain complete control over the voice you are broadcasting. It has a mute button with zero latency headphone output.
With its trip-capsule array, you can record your voice or ensure a clear sound in your Webinar in any challenging situation. The mic has four modes namely stereo, bidirectional, omnidirectional, and cardioid which makes it multipurpose for any voice recording.
If you feel any noise or distortion while recording the audio, you can instantly change the sensitivity of the mic with a gain control feature.
This versatile microphone has a complete package to be the best mic for streaming. You get the side-address condenser with a USB output and can instantly use this external microphone by just connecting it to the USB port of your system.
After completing the broadcasting, when you listen to the recording of your audio, you come to realize how your sound was produced.
It might end up in embarrassment if it is too loud or hardly heard through the microphone. Otherwise, your users may comment about adjusting the sound, and that does not look appropriate.
Hence, this microphone has a headphone jack output through which you can verify the quality of the audio and adjust the volume to give the desired output in your webinar. The mic is compatible with two major operating systems iOS and Windows.
This simple mic with black finishing gives a professional look to your webinar setup. However, you can choose other modern and exciting colors as per your choice.
When it comes to performance, this microphone gives proper voice output to your webinars. It has a tri-capsule array and can provide you clear voice even in an outdoor or indoor setup with a slight noise in the surrounding.
This particular mike is excellent for bloggers, marketers, and gamers who enjoy recording and live streaming their activities. With just more than 100 USD, you would get a decent microphone for broadcasting excellent webinars.
The stand of the mic allows you to adjust the alignment of the mic as per your convenience then lock with the screws so that your setup would be the same whenever you want to use the mic.
Snowball iCE Condenser Microphone can take your webinar's audio quality unlike other. Not only for the webinar, but you can also use this external microphone while recording YouTube videos, home narration videos or online course videos.
The mic has a custom condenser capsule that enhanced the audio quality and gives a crystal clear sound and captures all minute sounds happen around the mic.
The mic will be mounted on an adjustable stand, and you can plug and play the device without installing any software or third-party drivers from anywhere.
With a 4.5 star rating in Amazon, this external microphone can give you excellent audio quality for your webinar. It is one of best mics for webinars for beginners as it doesn't require any technical skills or particular hardware requirements from a broadcaster.
You have to get this microphone, insert the USB cable into your system and start using the product.
It comes with a sturdy tripod stand that makes your mic steady while you speak. The mic has a high-quality ad converter that gives 16 bit, 44.1/48 kHz sampling rate which causes your high audio quality and superior in a webinar.
With 25mm diaphragm, you can record crystal clear sound for the webinar, online courses, and podcasts. This microphone is a small tool which can improve the quality of the audio of the webinar.
Moreover, you are given the complete control of how the audio is being recorded because you can monitor your voice by attaching headphones to the external microphone.
Samson Meteor has fold-back leg design through which you would get ideal positioning of your mic. Needless to say, the mic is compatible with Windows and Mac systems and provide the same user experience on both the devices.
Conclusion
So… did you like the suggestions above? It's ultimately up to you.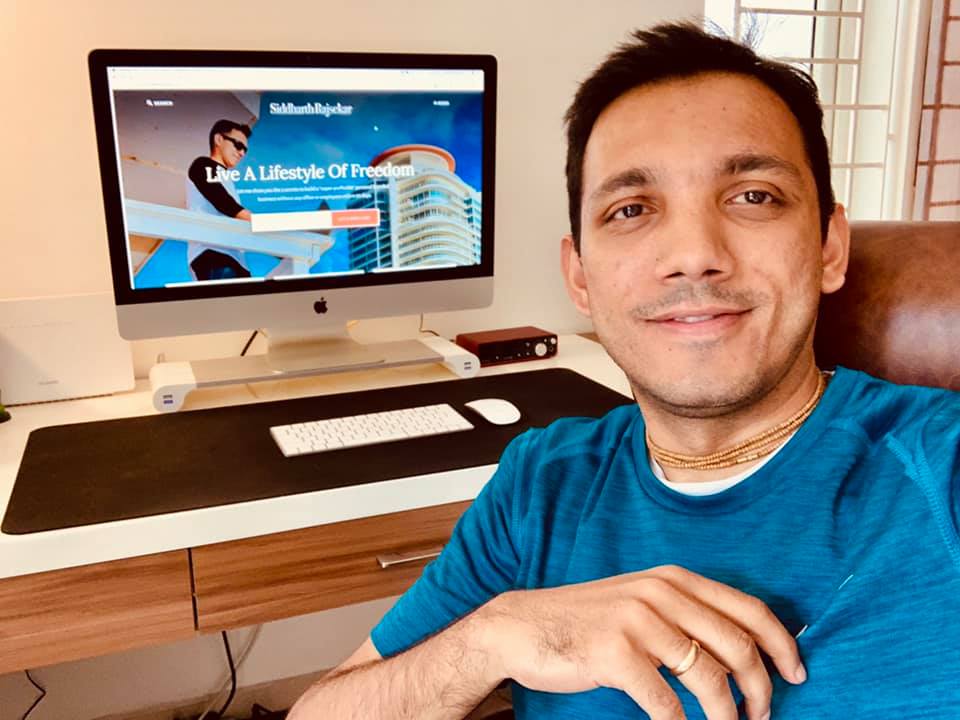 Choose products that suit your needs and improve the quality of your videos.
Indeed you will get a decent output even though you use your systems built-in web camera and microphone.
However, if you are hosting frequent webinars or planning to emerge yourself as an authority in your niche, you must broadcast webinars consistently.
To broadcast quality webinars, you will need tools shared here that could improve the fundamental aspects of your webinar, i.e., audio and video.
Do let me know what gears do you use for your webinar and how do they have helped you. Also, share your views in the comments if you have used either of the cameras or microphones shared here.