Building an inner circle is one of the most powerful ways to turn your business into a movement.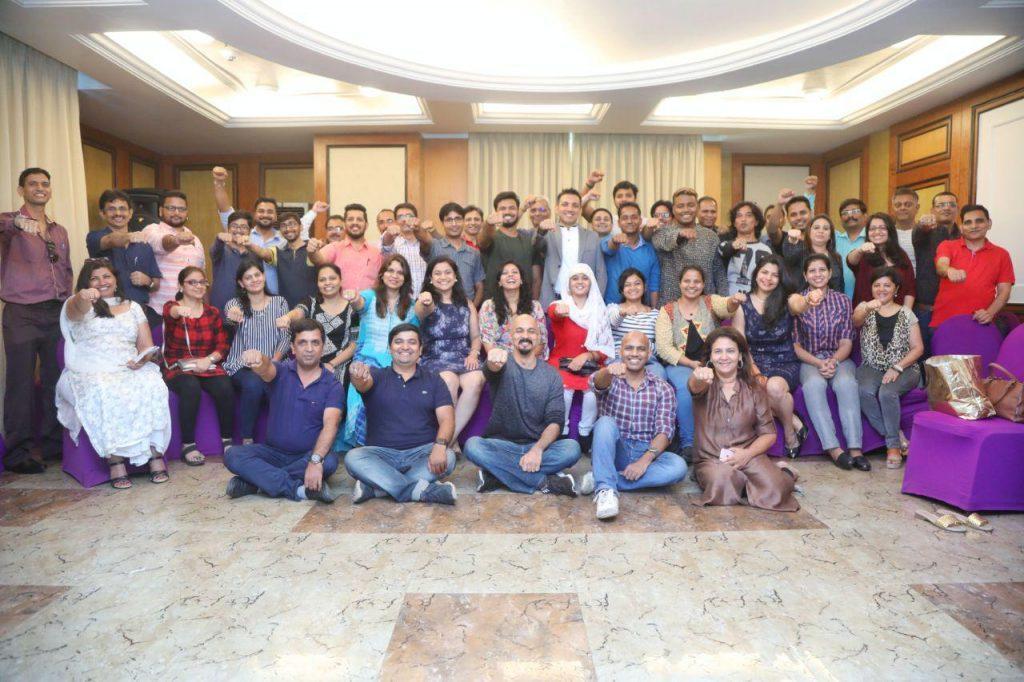 Since you were born, almost everything has been chosen for you — name, gender, family, social status, school, college, and so on. If you observe your life, there are few things around you that you have chosen for yourself.
Even though there are only a few things under your control, but those aspects have the power to transform your life. One of those areas of your life where you have full control is to choose the people you interact with.
Take a moment and think about this. There were different kinds of people around you when you were in school, college, or office.
But why you have been able to connect with just a few people. Even in your family, why do you connect with someone better than others? Why some people from different phases of your life are still in contact with you, and you have grown relationships for a lifetime.
The answer to all of these questions is simple. Because you choose to do so. Yes, you have unconsciously chosen your friends, people who are become a part of your inner circle and they know everything about you.
Even though it may sound blunt, these people have the most impact on your overall personality development. How you think, how you approach things, and how you cultivate yourself after an experience is influenced heavily on who are the people you share your thoughts and spend your time.
What is the Inner Circle?
The inner circle is the immediate people that you interact with in your routine life. As a child, your inner circle is your family and home where you grew up.
In your school and college phase, the inner circle increases as you make new friends. Hang out with certain people, share your thoughts and academic years.
In corporate life, your inner circle shifts to the people with whom you work with every day. The management to whom you report, your manager, your subordinates, all of the people whom you regularly, talk during lunch time, ask for help are all come in your inner circle.
How Inner Circle Directs Behavior?
Your mind behaves what it continuously sees and comprehends. For example, what happens when you hear your favorite songs? You become cheerful because of your mind release dopamine, which affects your overall mood at that time.
Similarly, if you meet and interact with certain kinds of people, their habits and routines start impacting your overall conscience and you, one way or other, starts modifying your habits to meet their standards.
Your thoughts change, your ideologies take a shift, and your overall thinking process also modifies, then thinking shifts to developing new habits, and these habits shape your overall personality.
For example, whenever you feel off the track or not happy, whom do you call? You talk to your friend who is funny and cheerful. In a single conversation, your friend can turnaround your entire mood.
Similarly, if you want to be inspired and motivated, spend some time with the people who are chasing their dreams with the best of their abilities. After some time, you will observe you also feel energized and inspired to take actions toward achieving your dreams.
The people whom you share your free time have the power to bring a paradigm shift in the people around them.
Since you have the power to choose the people whom you are hanging out and spending time with, why not spending time with the people who are more skilled, disciplined, and have unshakable life ethics.
Here are the reasons why should have a group of like-minded people?
1. You can Have Unique Perspectives and Inputs
Your inner circle should have people who are equivalent to or smarter than you. This way, if you want to take an essential step of your life, be it academic, or professional, these people will add new perspectives to your thinking and decision-making process.
If you are stuck somewhere, your inner circle can guide you in clearing any confusions and choose what is right for you. Even if your decision seems harsh on yourself, these people can give you the strength to take the right step in your journey.
Sometimes, we all know the answers to our problems; our ego does not allow us to clear the mental barrier and face reality. That time, your inner circle would help you cope with the situation by telling the truth even if you don't like it.
Moreover, since there are a couple of people in your inner circle, all of them will bring different perspective and value at the table. You can take all of their opinions and then make better decisions.
2. They are Your Personal Board of Directors
Your inner circle is your go-to people to whom you can get clarity in your thoughts and get rid of any dilemmas that you have in any area of your life.
These people are your personal consultants because they would help you out in any way possible. As already discussed, you can review your failures, success, and experience to get profound solutions for your questions.
In a company that has a board of directors, each member of that committee has specialty and expertise in a particular field. Someone is good at marketing, someone is better in people management and so on.
Similarly, your board of directors would have a better knowledge of one of the areas of your life. So, you know that you have the right resource to make better decisions for your life.
3. They Make You Feel That You are Not Alone
The feeling of loneliness drains our energy and start affecting our confidence. During the tough times of struggle, we feel lost and think we have nobody to share our problems and speak our heart.
This feeling of loneliness brings depression and self-doubt. You give up interest from the things and activities, and you also feel that you are going nowhere in life.
That's when your inner circle can help you. The like-minded people can understand your situation and give you support when you need the most.
Most of the times, people need someone who can hear the frustration and show empathy towards the situation from which one goes.
So, the inner circle that has the people with the same interests and mindset as yours would understand what you are going through, and they would be there to hear you out.
They will console you, consult you, and even inspire you to go the extra mile and start again. Trust me, if you find people who share the same level of frustration and excitement of the same things which excites you is a blessing in disguise.
4. Unlimited Commercial Benefits
If a group of people is dedicated to achieving growth in any way possible, why don't agree and decide to utilize all the members' skills in helping others?
You can utilize the professional skills and network of other members to benefit yours and vise versa.
This way, every member can ask for help and give back to the community for overall growth. This would break the walls of fears, and everyone can be non-judgemental about others.
Moreover, you know that you will find a solution to your work-related problems from your inner circle.
5. They Motivate You to Go The Extra Mile
The like-minded group will have the people who all are trying to achieve the same goal from their routine. It could achieve commercial success, improve health, get an unstoppable mindset, or develop a particular skill set.
But working on oneself could be tiresome. You may feel out of energy and drained at time. So, whenever you feel tired or giving up, this group will charge you and inspire you to put more effort and become the best version of yourself in any way possible.
For example, you are part of a group where everyone works in the sales industry. Their companies and responsibilities might be different, but everyone wants to be the best salesman in the world by practicing, following, and developing their best personality.
So, whenever you had a bad day at sales and could not make the number of calls you committed or could not achieve the monthly or yearly target at the end of the span, your inner circle will help you to get back on the track.
You can share your miseries and tell them what does not work for you and they will help you boost yourself and become unstoppable.
6. You can Learn New Skills
In this competitive world, you should learn as many skills as possible and explore new concepts to increase your intelligence and skillsets.
The group of like minded-people would know something unique and creative skills that could help you enhance your talent.
For example, if your friend is good at public speaking, he or she may share some tips on how to speak confidently and engage the listener by delivering a captivating speech.
This way, you can also explore similar technical skills of your industry from your other friends and apply for the new job which you always wanted to.
You may come with a unique idea for yourself while learning something from your inner circle.
7. You can Get The Ideal Environment
As already discussed, the environment plays a crucial role in your overall development. When you are with the people of your inner circle, you will get that space where you can grow, express yourself, and become a better human being.
You won't feel like an outsider when you are with them because you would be given the complete freedom to share whatever you want.
You can follow a routine with your inner circle and create a zone where all the members push their mental, physical, and psychological limits.
You can decide to go to the gym together, organize a brunch in a week, or host a meetup in a month to assess your performance.
This way, you can instantly know where you can improve and which areas of your life you should focus more to get instant solution and enhance the standard of your lifestyle.
8. You Develop Self-awareness
Since you see that the people are passionately working on themselves and competing with their selves, you will start observing your thoughts and become aware of your actions and responses to certain situations.
Since everyone tries to improve themselves, there is a healthy competition to beat everyone and becoming a top performing in the group. This is an extremely productive stage where you can explore a different side of yourself.
You become self observant of your actions and how you approach things. The only thing for you is to improvise your performance by utilizing your resources.
You would start having positive thoughts and get rid of distractions because you know by then that you are your only competition, and you must get rid of toxic habits and develop a routine that builds your character.
9. If you Cannot Play the Game, You Could Watch The Game
Just from observing things happening around, you will have a profound impact on your conscience. You may not have the skills and expertise in the respective field of study so you cannot perform just like the pros do.
However, you can always watch how elite individuals of the industry conduct themselves, handle their projects, and express themselves through their work.
By just looking at how things are done, you would learn a lot and can replicate the same in your on-going lifestyle to optimize and elevate your situations gradually.
This is one of the best parts of having an inner circle. You get to see and observe the best of the best and also get a chance to retrospect their deed and think about how you can apply the same fundamentals in your operations.
Conclusion
Although an inner circle cannot be built overnight, developing one will give you a goldmine of opportunities that would transform your life.
You need to connect with as many people as possible on a daily or weekly basis. Talk with them, network with them, or ask questions to build good and lasting relationships.
This is a lifelong journey of creating and evolving the inner circle to contribute to society and make yours and others' lives better with each passing day by sharing your knowledge.
If you also have a group or maintain a routine with a few people, share that experience in the comments. Do let us know what do you think about the concept of the inner circle and how it helps an individual.