According to the industry research by Forbes, the eLearning market is all set for touch $325 Billion by 2025. Check out this podcast first!
That's a massive number!
Would you like to get a small piece out of it?
Maybe a couple of millions or even more who knows.
Here's a snap of me in Las Vegas, and while I was traveling I was a making a lot of money selling my courses online.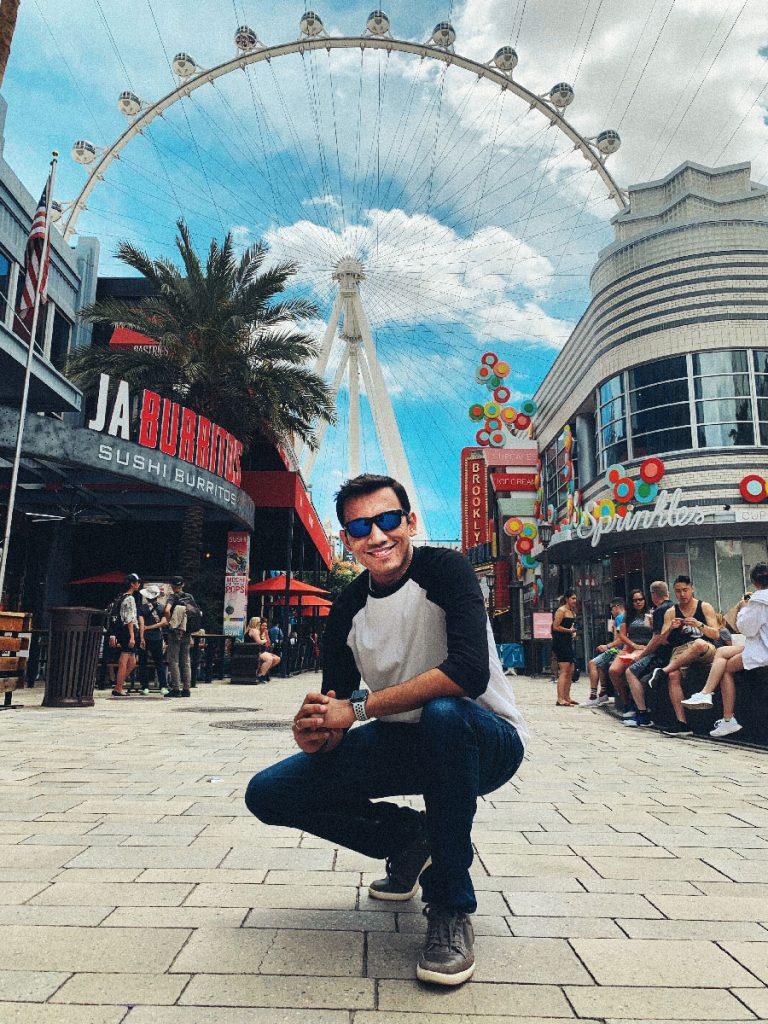 Online courses are booming, and people are spending like crazy to learn from the experts because everyone wants to learn the secret sauce to make money.
If you have a course to share with your students and don't where to upload and share it with the members in a systematic way, then be with me till the end.
In this article, I'll share with you the five amazing tools to sell online courses like a breeze.
Let's get started!
Shall we?
5 Platforms to Create & Sell Your Online Courses
Here are my top picks out of the numerous tools available on the Internet.
If you want to sell online courses, Teachable is the first online platform that comes to anyone's mind who knows a little bit about selling online courses.
Teachable is a great product where you can upload all your course content in an organized manner. Your students can log in into the Teachable portal and watch the course on a suitable time sitting in a pajama.
There are over 186k+ courses hosted online on Teachable and over 18 mn+ students have learned using the platform.
That's a crazy big number. Let's now see what all features you get with Teachable and how it can help you build your digital course business.
Teachable Features:
Ability to add multimedia files, videos, PDFs from your local computer or upload it from Google Drive or Dropbox.
With the easy to use drag-and-drop editor build a proper landing page for your digital product directly on Teachable or on your custom domain.
Create quizzes, discussions, and completion certificates all within the Teachable platform to increase student engagement.
Apply coupon codes with custom expiry dates to create a sense of urgency.
In Teachable, you can accept payments from over 130+ international currencies and directly receive the payment in your credit card or PayPal account.
You can also create an affiliate program which people can promote to their audience and bring new sales for you on autopilot.
With the help of Zapier integration, you can connect with email marketing, communication, and CRM software.
Add Google forms or Typeform survey to collect valuable student feedback to understand their behavior.
Teachable is a complete online course selling portal where you can create and upload your course content, track all your data in graphical format, collect payments, and serve your students better.
The only problem I see with Teachable is, with the basic plan (which most of the course creators buy) they charge a flat 5% transaction fee which can be painful if you're doing good numbers with course selling.
Teachable Pricing:
Basic: $39/mo
Professional: $99/mo
Business: $499/mo
If for any reason you don't like Teachable, another great option to sell online courses is Thinkific.
It's not as huge as that of Teachable but does the job pretty well. The best part is, they do offer a free plan. If you have less than three courses, you can use Thinkific to host courses for free, and you also get instant transactions.
Empowering 36k+ course creators Thinkific is your one-stop solution to create and sell online courses. It has everything you need to make more money on selling courses.
The user interface of the tool is simple to use and easy to understand which anyone and everyone can master. There's a lot more to explore about this tool which I'll talk about in a minute.
Thinkific Features:
Apply beautiful looking themes with your course that helps your brand stand out and sell more.
Embed video, text, images, downloadable content, Google Docs, quizzes, and survey forms in your course.
Upload all your course content and with Thinkific easy to use drag and drop editor create a proper module sequence.
Use your domain name and create a beautiful landing page to hook more visitors and convert them into paying customers.
For developers, you can even change the backend code to add more customizations to your site with Thinkific.
Increase your course sales by offering exclusive time-sensitive coupon & promo codes.
Either create a one-time membership course of offer a recurring membership program. The choice is yours.
100% secure payments accepted directly in your credit card with over 100+ payment currencies accepted.
That's not all. You can integrate with a lot of third-party software to help you sell courses fast and efficiently.
Apart from that, your students can set goals, track their performance, and learn effectively under your guidance.
Lastly, all your data is secure with Thinkific, where the company stores all your data on the cloud and take daily backups just in case something goes wrong.
Thinkific Pricing:
Free: $0/mo
Basic: $49/mo
Pro: $99/mo
Premier: $499/mo
With Podia, you can sell not only online courses but also ebooks, memberships, and other digital assets.
The best part about Podia is, there's zero transaction fee, and you can create your online course without knowing a single line of code.
Podio team is so generous that they offer you a free webinar where they teach you how to use the platform and get the maximum benefits out of it.
Currently, over 20k+ content creators are selling their digital courses with the help of Podia.
Lastly, no matter which plans you buy from Podia, you get everything unlimited without any bandwidth restrictions.
If you're not sure for any reason, you can first try out the free 14-day trial. If all goes well, you can upgrade to one of their premium plans.
Podia Features:
One of my favorite features is you can upsell right from the platform and increase your customers lifetime value, aka LTV.
Upload video files in the Podia content platform without any file size limits.
You also have the option to select between 10 available language options – English, Italian, French, Spanish, etc.
You can sell the course at a fixed price, or if it's your birthday, you can even offer it for free.
With an affiliate system, you can help other people market your product and generate more revenue for you.
Accept Stripe & PayPal payments instantly with zero transaction fees.
Offer payment plans to your customers, which helps them make payments in installments.
Segment your list with the type of products they have purchased from you and send them a hyper-targeted email with the built-in email marketing tool.
Test your student's performance and see if they learned from you or not with the help of course quizzes.
With Podia, you can also pre-launch your courses wherein you collect the email address of people who are interested in your product and later send them an email when the course is live.
Overall, Podia is a very resourceful and powerful piece of software. You can try hosting your course at least for once on Podia.
Podia Pricing:
Mover: $39/mo
Shaker: $70/mo
If there's anything digital that you want to sell out online, you can do that with the help of Gumroad.
From online courses to animations, apps, software, games, merchandise, music, books, podcasts, you can sell anything you imagine.
The software setup is dead simple where you can sell any of your digital assets or physical products like a professional.
You can track all the data with a built-in powerful Gumroad analytics system and also respond to all your customer queries.
The software is free to use. However, if you want advanced features, then you have to pay $10/mo with 3.5% transaction plus 30 cents for each payment that comes through Gumroad.
Gumroad Features:
On your landing page, you can change the color, fonts, and add additional CSS to make it more beautiful.
Copy a few lines of codes and show up a quick sign up form to collect hot leads for your products.
Accept currencies in dollars, euro, yan, and sell your digital product across the world.
Give both the fixed amount and percentage discounts to your existing or new customers.
You can also sell physical products with the help of the Gumroad platform.
Decide whether you want your customers to pay a monthly or one-time fee.
Start collecting pre-order emails from users and send them an email from Gumroad when the products go live.
Copy a line of code anywhere and sell digital courses from your social media profiles, custom URLs, and widget areas.
Have a group of marketers just like you? Tell them to promote your product as an affiliate and skyrocket your sales.
If you plan to upgrade any products in the future, you can send quick updates via email to all your existing customers.
Overall, I love Gumroad as it has minimal yet powerful design and workflows built-in.
The tool is way too cheap compared to the other products mentioned in the list, and here you can sell almost anything online.
Go try out the free version of Gumroad today!
Gumroad Pricing:
Free
$10/mo (3.5% + 30 cents/per transaction)
The last software on our list is the Zippy Courses. It's an all-in-one tool for teaching and selling your online course.
With Zippy Courses, you can create and sell your courses fast. You have a lot of customization offers before you release your course in public.
The tool integrates with popular email service providers like MailChimp, Convert kit, Drip, ActiveCampaign, Getresponse, and many others.
Zippy Courses handles all the hosting of your course website so no matter what you don't need to worry about the traffic your site receives. The tool will handle it pretty smoothly.
Let's quickly jump into the features that you get with Zippy Courses.
Zippy Courses Features:
Build your course landing page in minutes if not hours with the easy to use drag-and-drop editor.
Divide one course into multiple tiers and sell it at a different price to increase your sales with the same efforts.
Open and close enrollment of your course for a limited period to create an urgency for people to buy it instantly.
You can decide whether you want to release all the course modules at once or drip feed content and release it one by one.
Send follow-up emails automatically from the Zippy Courses system and convert hot leads into sales.
Customize the course layout as you like. You can use multiple designs that are available premade or use your design the way you like.
Although being new in the market, Zippy Course is a strong competitor of the other online course selling software.
However, I feel the pricing of the software isn't justified. The plan starts at $99, which is expensive considering the same set of features you get in other tools for less than 50 bucks.
Apart from that, I feel it's a great software to try if you have the budget and doing good numbers by selling courses online.
Zippy Courses Pricing:
Standard: $99
Professional: $199
Final Words:
After trying and testing all these tools, I felt that you can pretty much pick anything that you want. My personal preference is Teachable for its simplicity of use.
Below is a snapshot of my Teachable school, and I recommend all my students also to use this platform. Their support is great.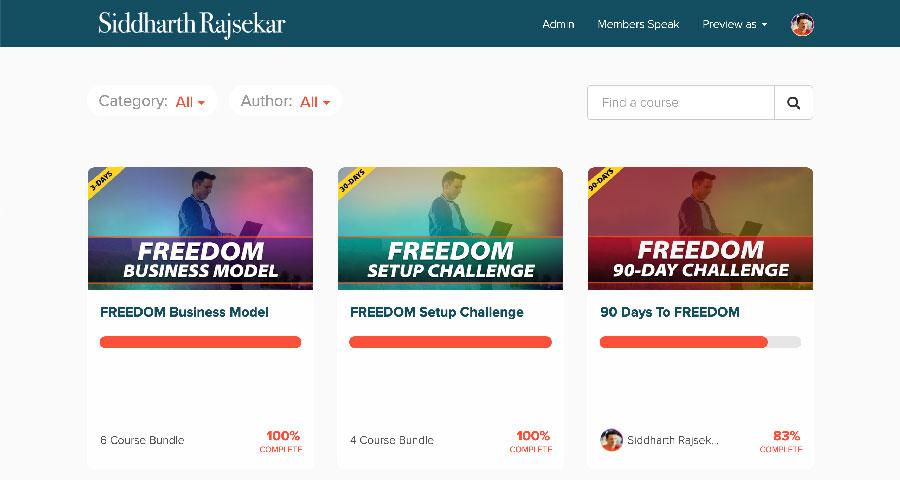 Digital course industry is now considered one of the biggest money making industry online. Everyone is taking their pie from this massive cake.
It's your time to make a good amount of money by selling online courses and these platforms which I mentioned above help you do that.
I use and recommend Teachable to all your readers. It's like an Apple of online course selling you'll fall in love with the simplicity of the tool.
Lastly, if you feel like I missed out on something don't hesitate to leave a comment down below and let me know. I'd be more than happy to answer all of them.