With over a billion people logging in everyday, Facebook advertising has become the hottest thing on the planet for brands and small businesses.
Having said that, Facebook generates more revenue than any other social network… period.
This really cool article I found on Jeff Bullas' Blog talks about some amazing facts about advertising on Facebook and how this is going to just keep growing over the years.
According to emarketer By 2017, when US digital display ad expenditure will reach $37.36 billion, Facebook and Twitter together will account for 33.7% of the market, up from 30.2% this year. The projected growth in mobile is nearly 300%!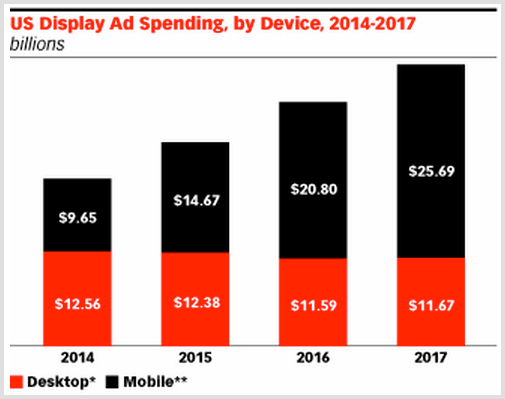 Some Amazing Facebook Advertising Facts
1. There are more than 2 million active advertisers on Facebook
That means advertising is more consistent and competitive than ever, and ads with high quality content and appeal will rise to the top. (February 2015)
2. Over 700 million users visit Facebook on mobile each day
The number of mobile users is only growing. Even if your Facebook advertising ad is pristine, be sure links out to your website are mobile-friendly. (2015)
3. Mobile makes up 66% of Facebook's advertising revenue, up from 49% one year ago
This number will undoubtedly be even larger next time around. Take advantage of this growing market of mobile users! (October 2014)
4. Users bought $234 million worth of virtual goods and gifts on Facebook over a quarter
During Q2 of 2014, Facebook users proved they are not shy about utilizing Facebook in their online spending. (July 2014)
5. Targeting Facebook ads by custom audiences mean lower CPCs
On average, if you target your ad by a custom audience rather than by category or interest, cost-per-click is 14% lower, and cost-per-conversion is 64%. (October 2013)
6. 21% of fans Like a page to do research on that business' goods or services
Your page can be an educational tool to help users understand your product. Take advantage of this space where you can speak directly to the customer! (July 2013)
7. "Socially devoted" brands receive 3.5 times more user interaction than non-devoted brands
A term coined by Socialbakers, a "socially devoted" brand has open communication with their fans, responds to user-posted questions at least 65% of the time, and in a timely fashion. That's the power of Facebook advertising. (September 2014)
8. 41% of fans Like a page to receive regular updates from a brand
Your brand's page is your direct channel to keep customers in the loop about the business. Post on a frequent schedule so you can maintain your fans. (July 2013)
9. Facebook boosts visibility for the last 50 pages a fan interacts with
The site keeps track of the 50 most recent pages a user has engaged with and boosts those pages' content on the user's News Feed. It's important to be one of those last 50 pages, so post consistently! (February 2014)
10. About 75% of a post's total engagement will happen within its first 5 hours
Time your posts well, and make use of the scheduling feature. Post quality content when your users are likely to be online. (August 2013)
11. Posts using emoticons receive higher rates of engagement
By inserting emoticons into posts, you can humanize your brand, yielding rates that are 57% higher in "Likes", 33% higher in shares, and 33% higher in comments. Decide if using emoticons is appropriate for your brand voice! (2013)
12. Facebook's algorithm prioritizes Facebook videos on users' News Feeds
If you plan to make a video post, make sure it is hosted on Facebook! Videos hosted on Facebook are prioritized to make up 30% of a user's News Feed. (January 2015)
13. Facebook video plays are increasing 758% year over year
This is likely thanks to Facebook's Autoplay feature – users are sticking around to watch the video, and as a result, user engagement with video posts has increased. (April 2014)
14. Asking a question at the end of your post yields a 100% increase in comments over posts with a question in the middle of the post
If you pose a question to users to make your post more interactive, put the question at the end of the post so users feel invited to take part in a conversation with the brand! (January 2013)
15. 35% of Facebook fans Liked a page specifically to compete in a contest
Contests can be a great way to grow your fan base quickly. After drawing in new fans, post engaging content so they stay after the contest is over. (December 2013)
16. There are now more than 40 million active small business Pages on Facebook
For small businesses operating on a budget and limited connections, Facebook is the perfect way to reach out to customers and grow your market. (April 2015)
17. One out of four people who use Facebook to write complaints to brands expect a response within the hour
If your business has a small social media team, this may not be possible. Still, be diligent of what customers ask on your brand's page. (2013)
18. Ad clicks are increasing 70% year over year, and ad click-through rates are increasing 160%
This is promising news for Facebook advertisers. If you can provide the quality content, you have a good chance of getting users to your site! (April 2014)
19. 78% of fans use a brand before they Like the page
People typically feel more comfortable engaging with a brand after they are familiar with it. Find ways to motivate potential customers to Like your page. (July 2013)
20. Shorter posts receive 60% more engagement
If a text post is more concise (limited to 250 characters or fewer), users are more willing to commit the time to engaging with your content. (December 2013)
American Relocation Connections was able to generate amazing interaction with this simple yet effective post about Warren Buffet.
21. Photos account for 93% of user engagement activity on Facebook
Over text-only posts, photo posts account for 53% more likes, 104% more comments, and 84% more click-thrus! Make your photos personal, hi-res, and powerful. (December 2013)