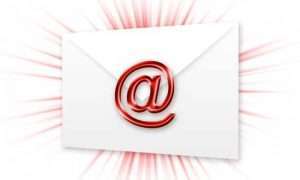 Have you ever sent out an email blast to your lists… and you noticed that your open rates are pathetically low??
Well, there is a scientific reason behind all of this, because sending out an email blast at the most appropriate time can can solve a lot of open rate and click through problems that you many be facing.
I was reading this really cool report by Mailchimp on Email Open Rates Benchmarks By Industry, which gave me a good idea on what the industry standard is when it comes to opening emails.
Email blasts are best when strategically planned and sent to highly targeted groups of people that are hungry for the information that you're providing.
I use email marketing mainly to promote my weekly blogs, special affiliate offers, and also quality products which I have personally tried and tested – and not just any clickbank offer or other products that just come my way. I'm quite picky about what I promote through an email blast.
The Right Type Of Email Blast Can Increase Open Rates
I recently sent this email blast to my 'Quit Working Someday' project list, where I saw an incredibly high open rate of close to 47%. I analyzed the campaign and noticed a few points which contributed to its success:
It was sent to a highly targeted group of people who were looking for genuine ways to make money online
I had written the email blast in a way that was very personal, using the first name salutation in multiple places in the email body. This really helps you to build a personal connection with your list.
I had been building trust with this list for a while by providing them weekly 2 or 3 links of high value and relevant information. So naturally, they were expecting something valuable coming their way once again.

Here's the icing on the cake

: After studying the best timing to send and email blast, from the info-graphic below, I applied it to this same list, and boom!… I saw instant results, and much better email open rates.
The Best Timing To Send An Email Blast
Data courtesy of Dan Zarrella (@danzarrella), Pure360 (@pure360) and HubSpot. Content available as a webinar by Dan Zarrella here.

Some other articles on improving your email blast:
Conclusion
The best time of the day to send an email blast to your list is – Early Morning 6-9 am
The best day to send your email blast is preferably weekends – Friday, Saturday or Sunday
The best frequency to send your email blast is 1 to 4 emails a month
Again, this is subject to the industry that you are in and the relationship that you have built with your lists.