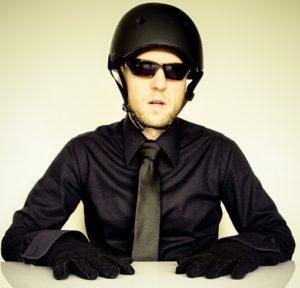 Do you really think Long Tail Pro is the answer to all your problems in life? Give me a break! 🙂
If you've come to this blog post with that mindset, you can close this window now or go and read some other blog post where they talk about Long Tail Pro as some kind of ultimate legendary tool which can make you a millionaire overnight!
Let's cut the crap and get to the meat!
You actually do not need this tool if you got your fundamentals in keyword research right in the first place.
This tool only helps you save time. Period.
If you're able to write some awesome content and provide absolute value to the marketplace, the search engines will automatically bring you all the way up.
Owning Long Tail Pro is like owning a Ferrari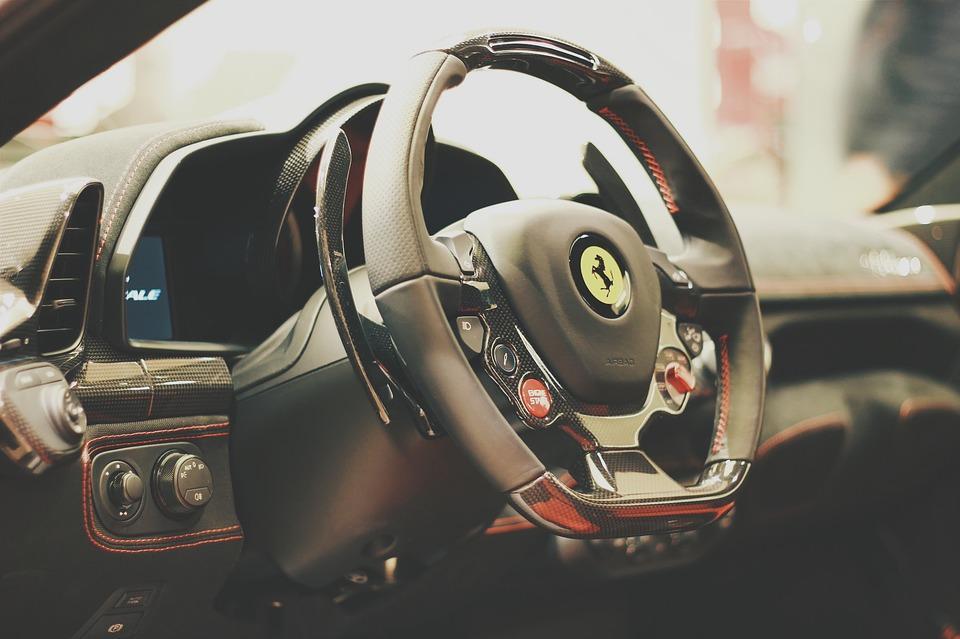 There's no guarantee that you will be a Schumacher just by owning a Ferrari, but you've got to first be good at driving. 🙂
Are you getting the drift of where I'm going?
Long Tail Pro is really not the answer to all your problems in life. It's merely a small piece of software which can save you a whole bunch of time if you know what you're doing.
So before I get on this review I just want you to understand that just purchasing Long Tail pro is not good enough.
"You need to understand the mechanics and mindset behind keyword research first before you buy any shiny-ball SEO software out in the market" – Sidz
In case you're just starting on this SEO game, I would suggest you play around a bit longer with Google's Keyword Planner before you buy Long Tail Pro.
Now that I've cleared my mind out on this… let's dive into the post.
Like I said earlier… this is an NO-BS Long Tail Pro Review!
I'm on your side… 😉
Yes, Long Tail Pro is an awesome tool, and if you start with the basic $1 trail by clicking on the link below you'll understand it's true potential.
Long Tail vs Short Tail Keywords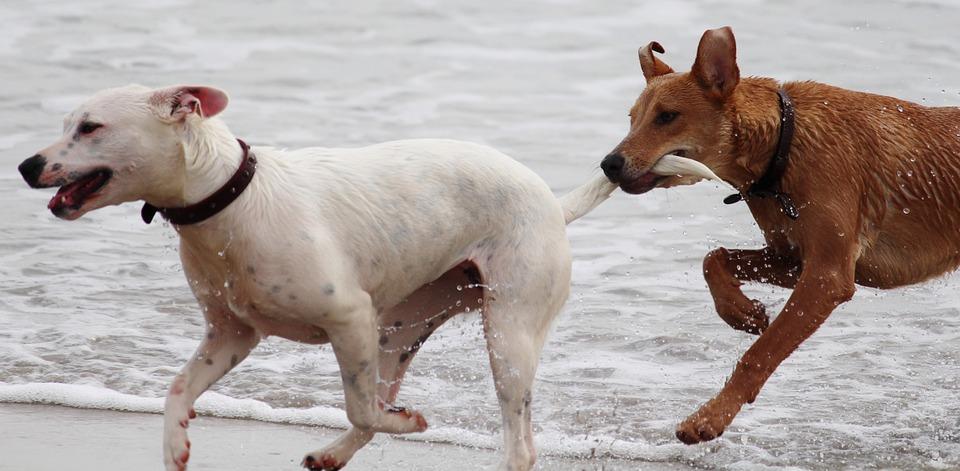 Let's first understand the difference between long tail vs short tail keywords.
I know you may be an experienced blogger or SEO dude, but still, I want to reiterate the difference so that it gets into your head.
An example of a short tail keyword is "dog training".
This may be a very hard keyword to rank for, and in most cases, this may not be the best keyword for you to rank for if you're selling some dog training courses.
An example of a long tail keyword is "free dog training course online".
It's got the keyword dog training in there, but you've added a few other words before and after the keyword to make it longer.
That's what you call a long tail keyword.
It's easier for you to rank for a long tail keyword than just a highly competitive short tail keyword.
Also, another aspect to think about is the intent of the keyword.
How People Use Search Engines?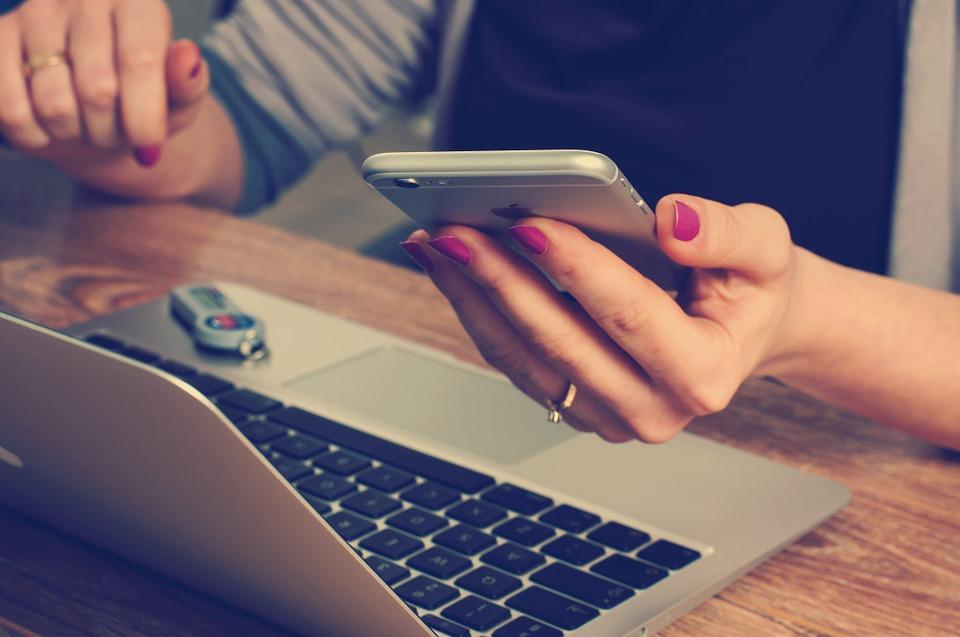 When someone searches for something on Google or any other search engine, their intent can fall under any one of these three categories: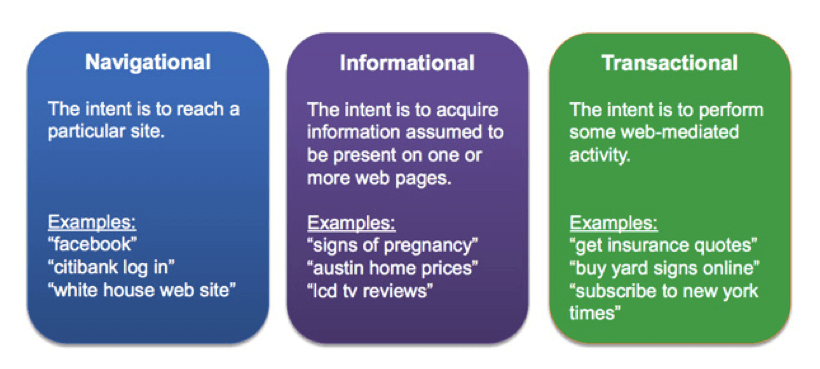 1. Informational
2. Transactional
3. Navigational
Neil Patel, one of the top guru's in the SEO and content marketing space talks about this in his blog.
1. Informational searches are pretty straight forward. This is where a user wants information on a particular topic. Example: "how to create a facebook ad" or "how to setup a WordPress blog". The intent here's purely for information and not to purchase.
2. Transactional searches are those keywords which users type in order to buy something. These are usually the most profitable keywords to go after if you're serious about monetizing your blogs. Example: "buy levis jeans" or "spa coupon online". The intent here is to make a purchase. The user is ready with their credit card in hand.
3. Navigational Searches are more on the lines of users wanting to get to a place which they've forgotten about or need to remember. Example: "scion social workshop page" or "Neil Patel analytics tool name". Stuff like this helps the user navigate to the place they want to go.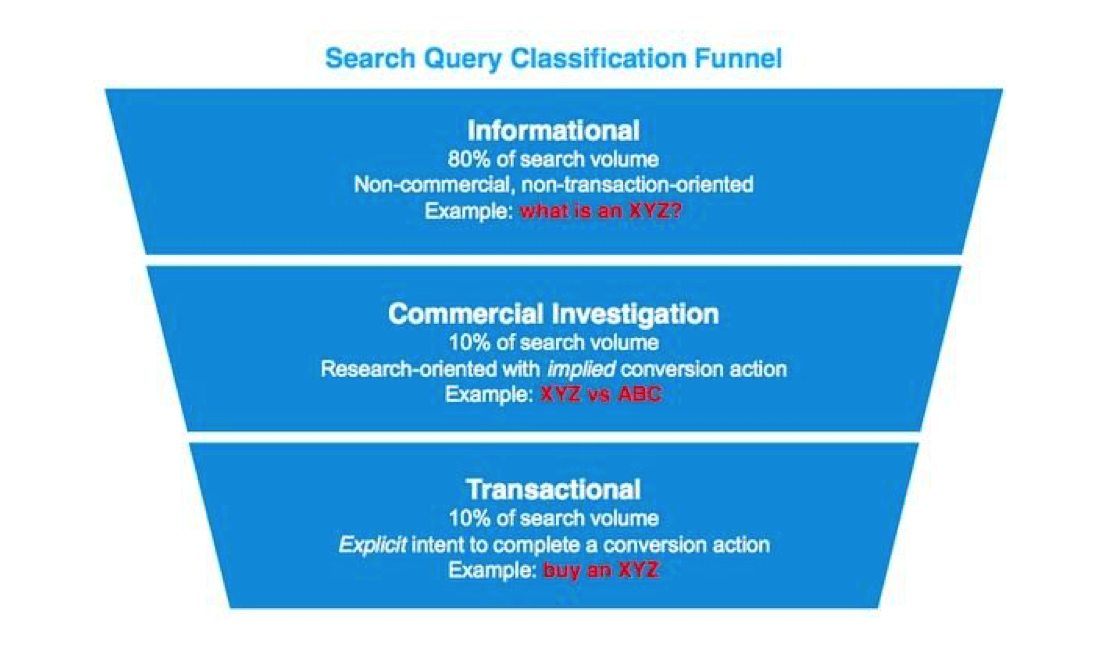 How Can Long Tail Pro Help?
Now that you've understood the basic concepts of keyword research and search intent, let's see what is Long Tail Pro all about and how it can make your life easier.
1. Super Fast Keyword Research
One of the features I love best about Long Tail Pro compared to the other tools out in the market is the fact that this spits out the keyword results really fast and I'm able to quickly get a snapshot on my top relevant keywords and their search volumes.
Once you've worked on the Google Keyword Planner, you'll realize how using this long tail keyword generator helps you get results really fast.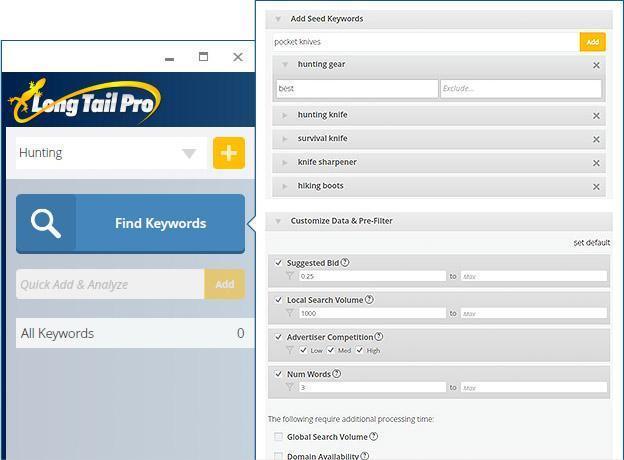 What I like best about this software is the quick filtering system. If not for this, I might not have bought this software in the first place.
Types of data you can filter on LTP:
– Actual Keywords
– Suggest Bidding Price (Google Adwords)
– Local Search Volume
– Global Search Volume
– Advertising Competition
– Number Of Keywords
– Google Title Competition
– Bing Title Competition
– Domain Availability
– Amazon Keyword Competitiveness
2. Find Profitable Keywords
This Adobe Air desktop application helps you find and shortlist only the top profitable keywords which you can focus on.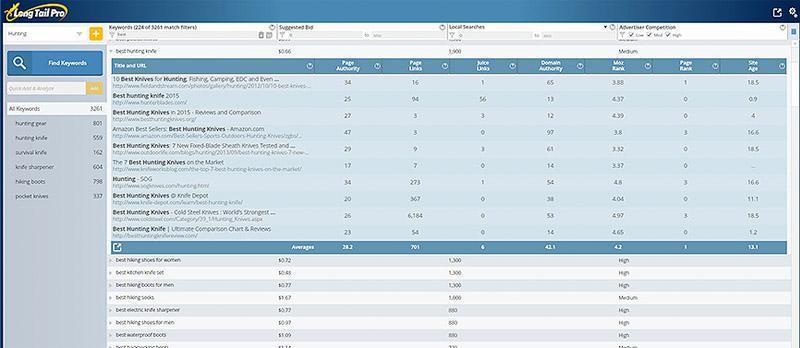 – If you're writing blog posts, you can then consciously use only those profitable keywords in the body to rank quickly.
– If you're doing YouTube videos, you can use those profitable keywords in the tags so that you can get your videos to rank on the second largest search engine in the world – YouTube.
I look for keywords which have a high search volume, and low on the competition for me to go after. Having said that, quality of content will any day out beat any article with the way Google's algorithms are getting smarter.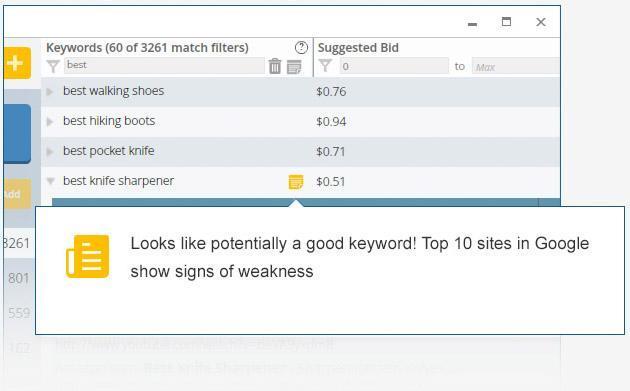 Why do you think I'm writing such a long, fun and in-depth article on a Long Tail Pro Review, even though there are tons of bloggers who've written about this?
Because I know that this is a profitable keyword, and there are tons of folks online, like you, who want a straight talking review of LTP and who want to BUY THIS now.
3. Find Keywords In Any Niche
Long Tail Pro will be extremely useful for niche bloggers.
Let's say you're really passionate about "baking cakes". You can use Long Tail pro to find out all the possible keywords around this 'cake baking' niche, and create your whole blogging and content strategy around this topic.
In fact, you'll get a whole bunch of ideas on what you can write on, which might not have thought about previously.
You can export your top keywords onto an excel or CSV file and then create your content schedule.
4. Calculate Your Keyword Competitiveness
One of the aspects of Long Tail Pro which is really cool is you can spy on your competition and find out if that keyword is really worth going after or not.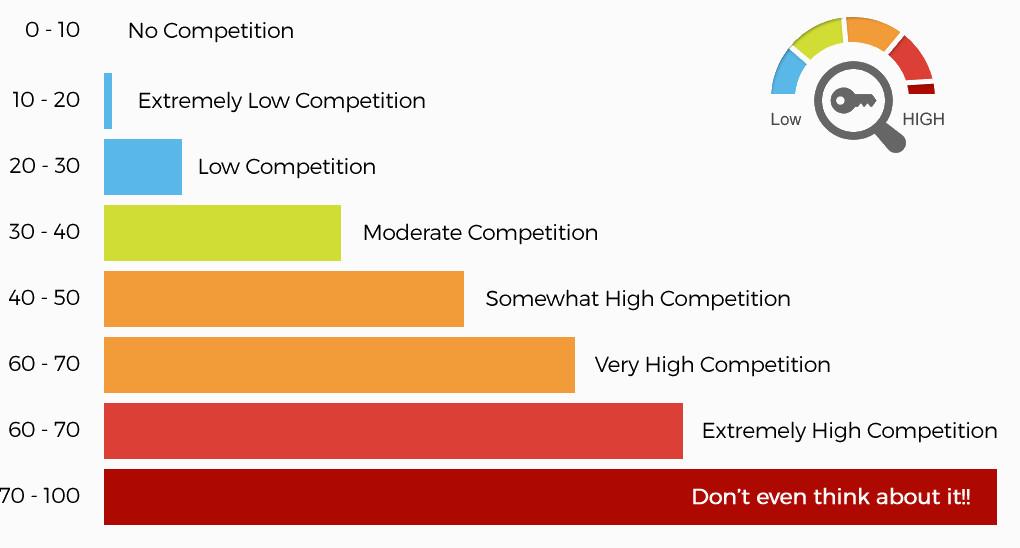 Once you have a keyword shortlisted on LTP, you can click on it and see which are the other websites competing for the same keyword.
In case you see websites like Wikipedia, etc in the nimber one spot, don't even bother trying to compete.
That's why this tool is called "Long Tail Pro". It's better you go after longer keywords and key phrases initially to out the beat competition.
5. Saving Your Top Keywords Into Projects
I love Long Tail Pro for this feature. I'm able to save all my keyword ideas into projects for quick reference.
You have the capability to create an unlimited number of projects in the application and every time you open up the app, all of them remain as it is for your reference.
6. Long Tail University
Now using this tool for all the keyword research may be cool. But there's always a high level in getting stuff done, and there's one of the reasons these guys started the Long Tail University.
If you pick up the Long Tail Platinum package, then you actually get the membership to the Long Tail Pro University for FREE.
The university is all about cutting edge strategies on better keyword research and niche blogging. It's a one-time payment of $197 if you're someone who's just keen on that membership alone.
Long Tail Pro vs Long Tail Platinum?
Seriously speaking, you can get a lot done with just Long Tail Pro, but having the Platinum membership will open up the software for more in-depth data and features which you won't get with the Pro version.
1. You can upload bulk keywords into the Platinum version, which is not possible with Long Tail Pro. With LTP you can only add 10 seed keywords which the tool will research.
2. If you've been looking for the best keyword research tool that gets into checking out Amazon reviews and the Average Keyword Competitiveness Score, then going for the Platinum version makes absolute sense.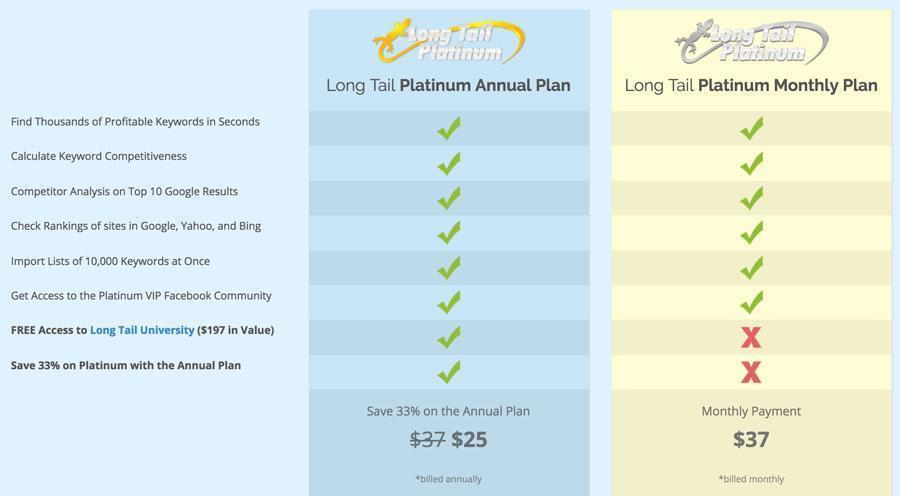 What I recommend is that if you're serious, go with the Long Tail Platinum subscription and dive into the Long Tail University training to get up to speed with your keyword research knowledge. You'll end up saving that $197.
FAQs – Let's Clear The Air!
1. Is it a good option for amateurs?
Definitely. Long Tail Pro has a simple, user-friendly interface and can be used by anyone.
2. Will it be supported on a PC or on Mac?
LTP can run on both PC as well as Mac. The software is compatible with both platforms.
3. Will I need any special knowledge to operate Long Tail Pro?
The learning curve for this software is not steep. You do not require any special training or knowledge to use it. It is as simple as click and goes.
4. How much can I get it for?
LTP starts with a $1 Trial for 10-days. You can subsequently choose a $37/month payment or a $297/payment (save 33%) option. This subscription can be canceled at any time.
5. Where can I get LTP from?
Long Tail Pro is marketed by ClickBank network. You can CLICK HERE to start your $1 Trial for 10 days.
6. Are there any good discounts available?
Promotional prices and discounts for Long Tail Pro surface now and then. CLICK HERE to get your offer now. These will become visible on the Long Tail Pro sales page on their website.
Final Thoughts – Do You Really Need LTP?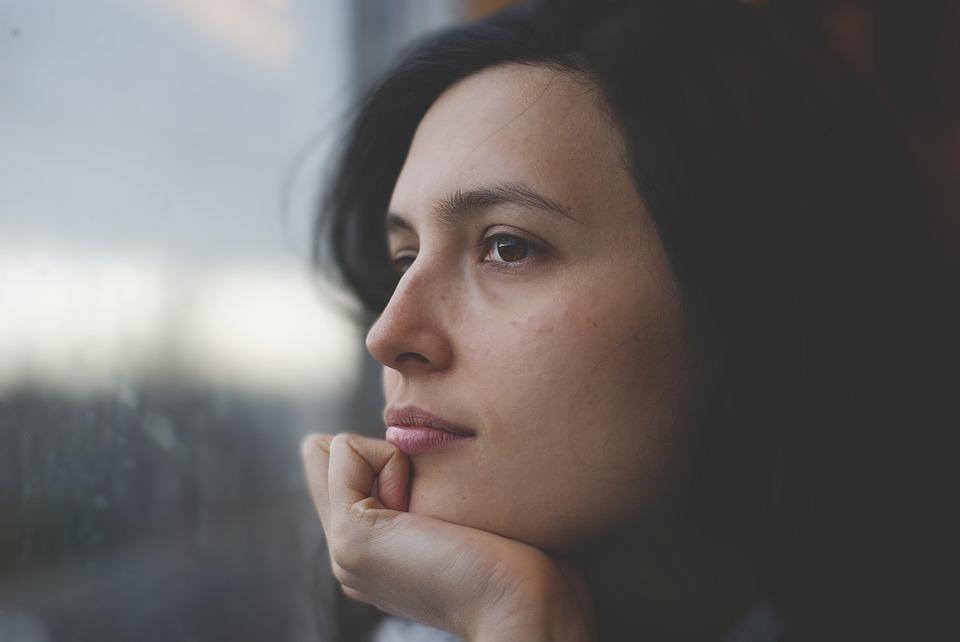 I will say this once again.
Long Tail Pro is like a Ferrari sportscar. Your success with this will be more on how you drive this car.
It has a lot to do with the driver and not the car itself, in this case, the Long Tail Pro software.
You really don't have to buy this tool if you're able to get ideas from Google Keyword Planner and write killer awesome content.
But if you're serious about dominating your niche online with the most appropriate keywords, this tool can help you filter & shortlist all of them for you to go on and start writing content or probably uploading videos with those top keywords as tags.
What Long Tail Pro does is that it simply saves a lot of your time in doing the research work.
This post has taken me a good 5 hours of thinking and writing because I wanted to cover all the aspects of the Long Tail Pro Review, and I hope that this has added value to your life!
I only promote stuff that I personally use, so this review is written out of personal experience, and I would highly recommend you Buy Long Tail Pro today.
Below is my affiliate link, and I would like you to BUY from my link only if you feel that I have delivered enough value on this post and that you have all the information to make an informed decision on your own.
Over To You! What Are Your Thoughts?