Are you curious to know what it really takes to enter the league of billionaires?
A total of 1,210 people made the 2014 billionaire list, representing a combined wealth of $6.4 trillion.
Of those, a record 268 were newcomers, surpassing 2008's 226 newcomers.
So what gives these people access to this exclusive 'Billionaire' club?
Is there more to it than just the 'information' all of us has easy access to?
Let's take a look into 5 'crazy' aspects that forge the elite.
1. Family Situation
The Walton family is Number 1 on the Forbes wealthiest family owned businesses.

They ironclad control over the world's largest retailer.
Together, six of the Walton's own nearly 54% of the shares. Rob Walton stepped down in June as chairman of the company, a position he held for 23 years.
His son-in-law Greg Penner succeeded him.
Though often embroiled in controversy, Mexican bribery scandals and criticisms over employee pay have grabbed headlines over the past year Wal-Mart's sales haven't suffered: it generated $486 billion in revenue in 2015.
The company has come a long way since it was started by Sam Walton (d. 1992) and his brother James "Bud" (d. 1995) in a small Arkansas town in 1962.
Sam's three living children and daughter-in-law, and Bud's two daughters now hold the fortune they left behind.
Let's take a deeper look into the making of Sam Walton.
He is the son of

to Thomas Gibson Walton and Nancy Lee. He had one younger brother, James. His father was a farmer who later entered farm mortgaging, as farming did not provide enough money to provide for his family.

Married by now, he borrowed some money from his father-in-law and purchased a Ben Franklin variety store in Newport, Arkansas, in 1945. The store was a franchise of the Butler Brothers chain.
He found considerable success in retail management with his pioneering concepts, and by the early 1960s, Walton, along with his brother James, owned 15 Ben Franklin franchises and one independent store.
Walton then planned to open bigger stores in rural areas with discounted prices in order to attract more customers and achieve a higher sales volume. However, the Ben Franklin executives were not in favor of this concept and turned down the plan.
Undaunted, Sam Walton went on to open the first Wal-Mart store on July 2, 1962, in Rogers, Arkansas. Around this time the Walton brothers teamed up with Stefan Dasbach whom they collaborated with in order to grow their business.
Conclusion: Statistically, you're most likely to be a billionaire if your family looks something like this.
Among the world's richest, 87 percent are married and 63 percent have three of more children.
No, having a large family doesn't mean you'll be a billionaire, however, the emotional connect and support here is key.
2. Educational Background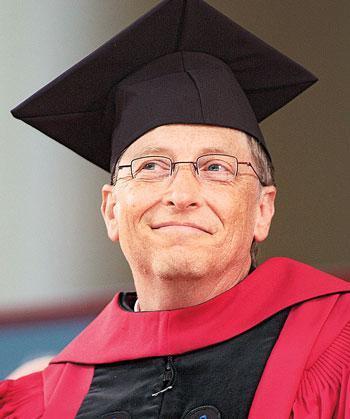 Microsoft founder Bill Gates is probably the most famous billionaire college dropout.
He's often held up as a shining example that you don't need to graduate from college to be successful.
And it is true there are many successful college dropouts.
But even Gates explained: "It is strange to call me a college dropout in all but the most literal sense. I went for three years and took enough courses to graduate."
He also scored 1590 out of 1600 on the SAT, which is probably why he was admitted to not just any college, but Harvard University.
Prospective university students set on making their billions should sign up for some extra engineering lectures, new analysis has shown.
More than a fifth, or 22 per cent, of the world's wealthiest people studied engineering at university, accounting for almost twice as many billionaires' degrees as the next most popular choice.
Average degree of most billionaires:-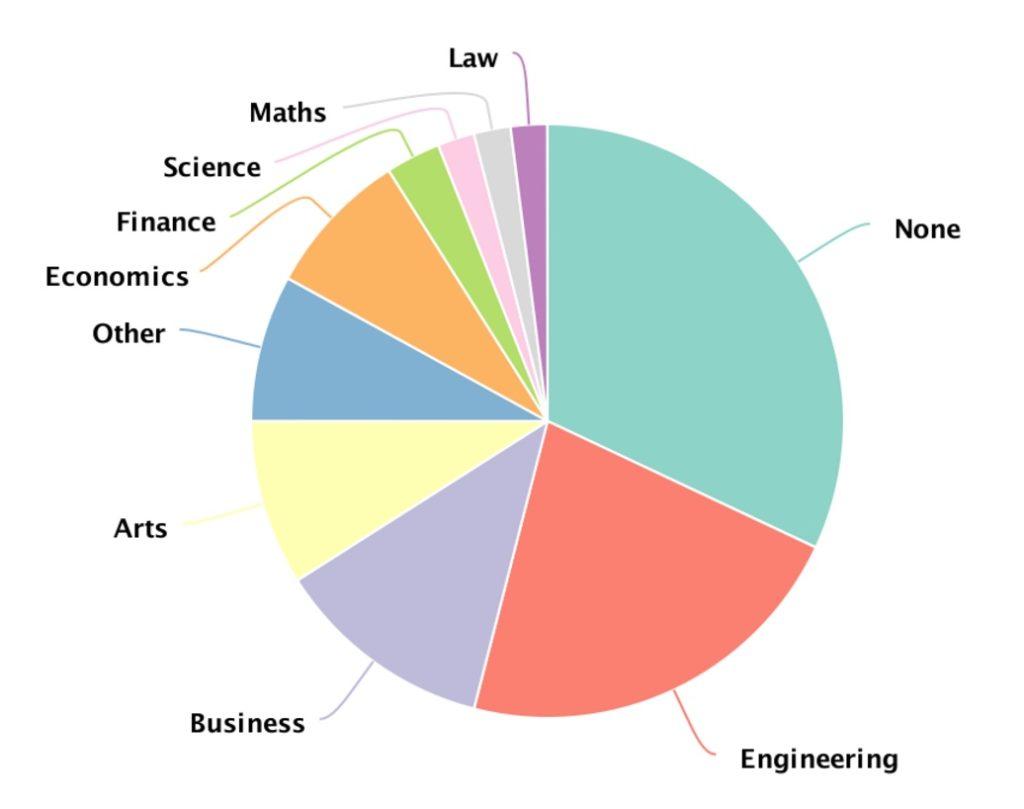 A business education has helped 12% of plutocrats amass their fortunes, while 9% of the fattest cats studied an arts subject at university – more than those who specialized in more business-oriented topics such as economics and finance.
Approved Index, the business-to-business buying platform, analyzed the educational background of billionaires by examining Forbes' list of the richest 100 people in the world.
While just four per cent of these people studied math's and science at university, the strong turnout for engineering graduates supports those campaigning for a better emphasis in schools on so-called STEM subjects, which includes science, technology, engineering and maths.

Engineering graduates are also the richest of their prosperous peers, with an average wealth of $25.8bn, compared to a net worth of $24bn for billionaires without a degree and $22.5bn for those who studied finance.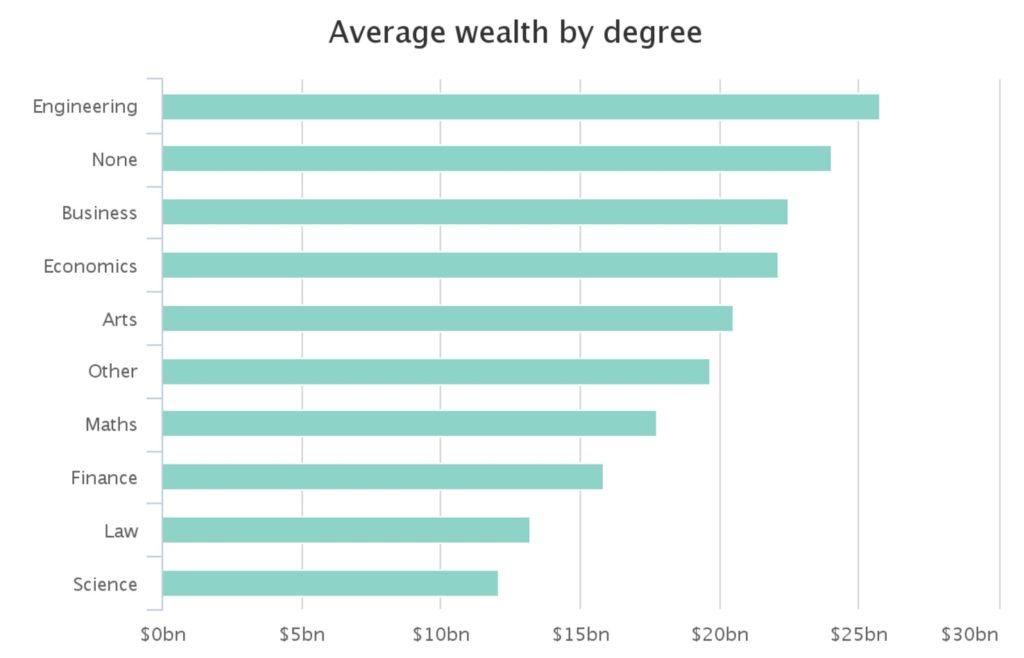 Here are just a few examples:
Billionaire Amazon founder Jeff Bezos graduated from Princeton University

Yahoo CEO Marissa Mayer earned undergraduate and graduate degrees from Stanford University

Ben Bernanke, former chair of the Federal Reserve, got undergraduate and graduate degrees from Harvard University and a Ph.D. from MIT.
3. Star Signs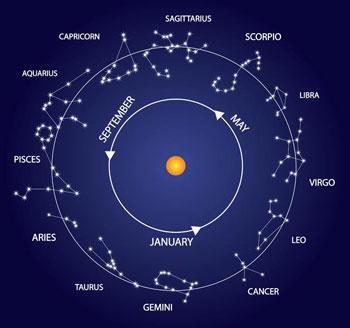 There are more billionaires in the Forbes Top 100 whose birthdays make them an Aquarius — a sign noted for its independence and originality — than any other sign, according to a recent analysis by GoCompare.com of Forbes' billionaires from 1996 to 2015.
But aspiring billionaires shouldn't take this stat to the bank.
The number of billionaires for each sign isn't that different, and in different years, the most popular sign may change.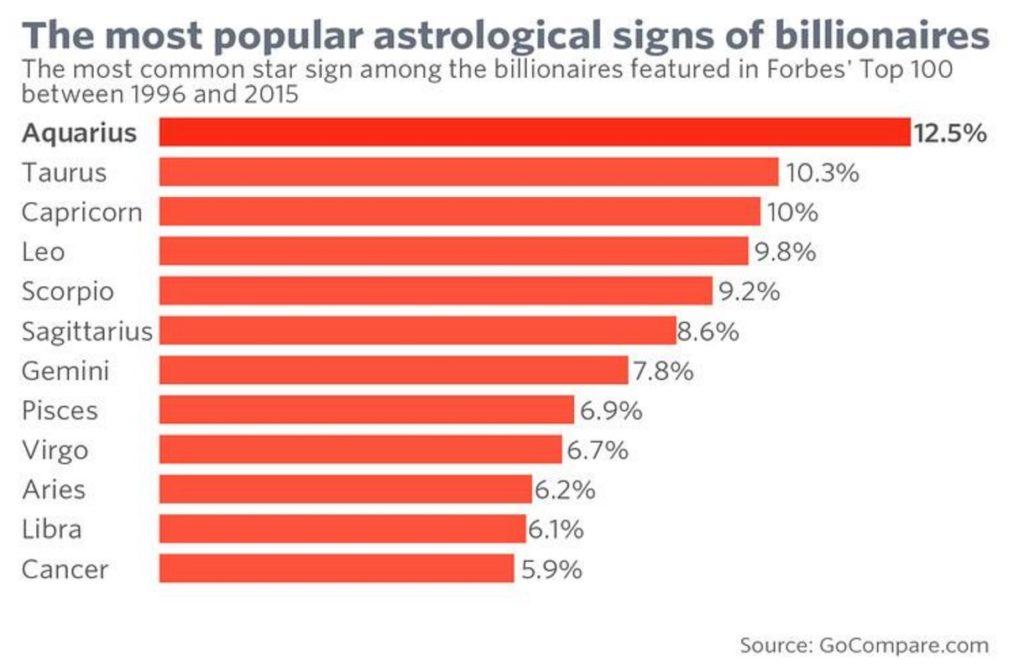 Bill Gates – Scorpio

Richard Branson – Cancer
Warren Buffet – Leo
Donald Trump – Gemini
Oprah Winfrey – Aquarius
Steve Jobs – Pisces
4. Location & Geography
Is there any way where you are born affect if you reach the 'Billionaire' status? China may have now overtaken the United States with the highest number of total billionaires amounting to 596.
However, 40 of the 100 richest billionaires, among them Bill Gates, Warren Buffet and Jeff Bezos, are from America. Further countries with high numbers of billionaires include Germany, Russia and France.
Possible explanations for this geographical bias may lie in America's promotion of the "American Dream" story and a solid network of angel investors and venture capitalists, which both provide a positive environment for innovation.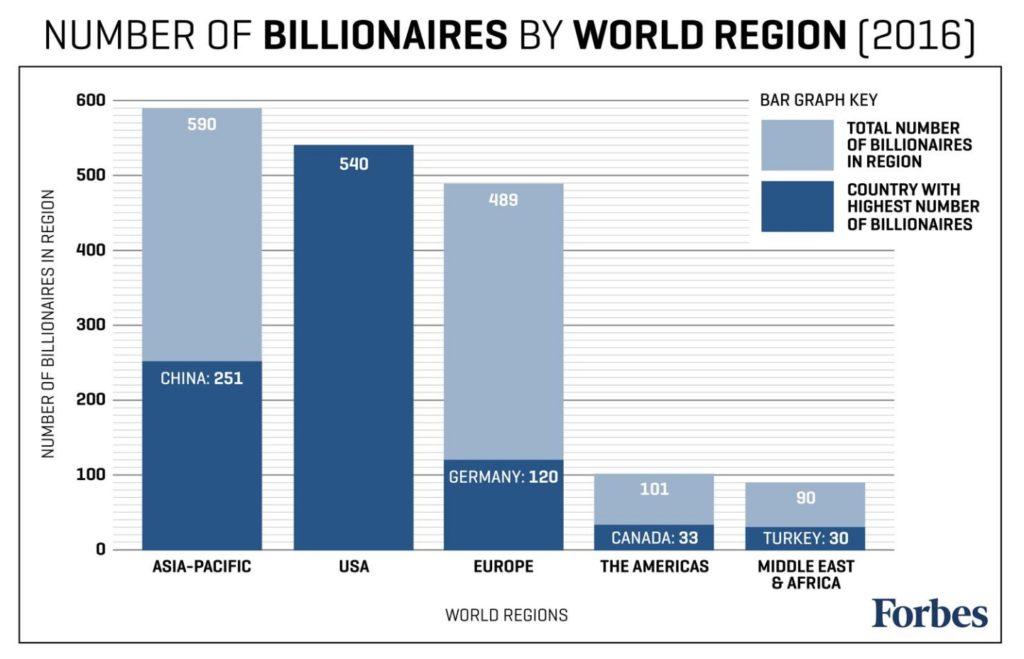 5. Gender
Due to the large growth our world has faced in the past century, this exclusive club of being a 'Billionaire' is no longer exclusive to males alone, there has been an increasing growth in the number of female Billionaires as well.
However, it is still an 'on-going process' only 102 out of 1,210. That amounts to a mere 8.4%.
The gap is expected to become significantly smaller in the coming decades.

Let's take a look at some stats of the world's male billionaires: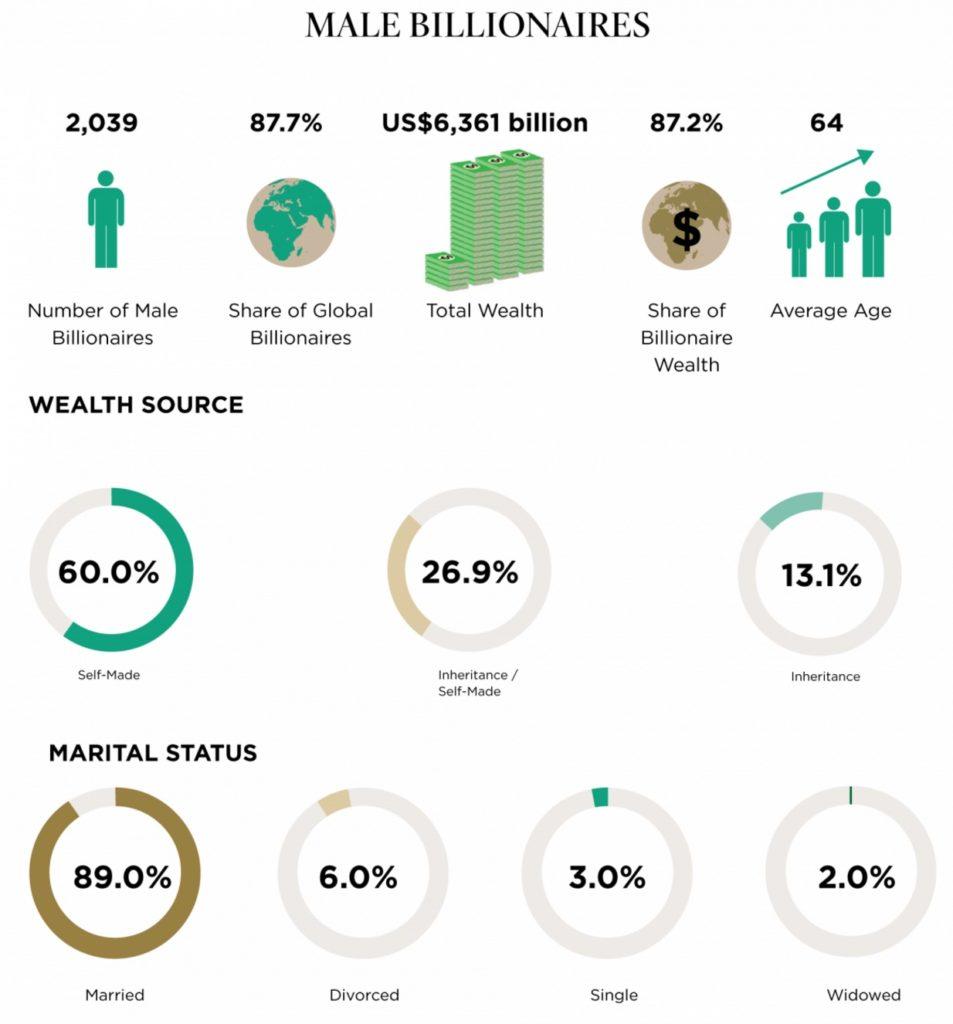 Here's some stats on world's female billionaires: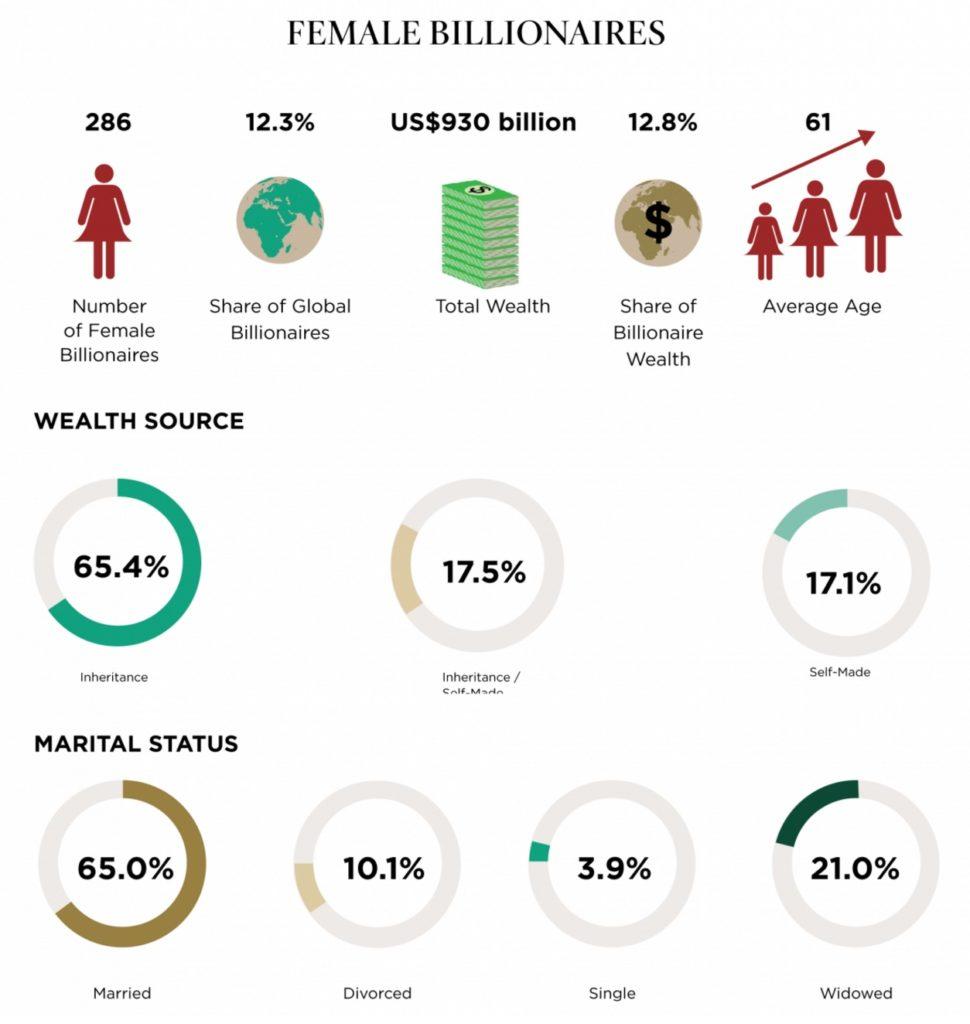 Conclusion – Final Words
I hope you found this post informative on the topic of what it takes to become a billionaire.
After personally meeting a few 'silent' billionaires, I have come to understand a few things about their personality:
They have an extremely strong work ethic
Always are on the move striking new deals
Not wasting anytime
Usually, their work speaks for itself – they never brag
Have a great team that can support them
They leverage systems and people very efficiently
They invest a lot in their education and personal growth
While I was doing my research on this topic of millionaires and billionaires, I stumbled upon this really powerful educational system which can help you step by step on understanding how to grow your net worth, by leveraging the internet.
I would highly recommend you watch this video training where an Industry Expert Reveals The 6 Steps To Making Your First 6 Figures.
You will learn the principles of building successful businesses and specifically the concept of franchising and leveraging top tier products.
Found this post informative? What are your thoughts?