Affiliate marketing is one of my favourite ways to make money online. Of course, my journey was a struggle until I perfected this into a system.
Earning money online is not tough these days. It depends on how much effort you want to put. Affiliate marketing is one of the lucrative ways where you can enjoy the perks of working in your terms.
Below is a snapshot of a fully-paid to Miami, after I won an affiliate contest last year.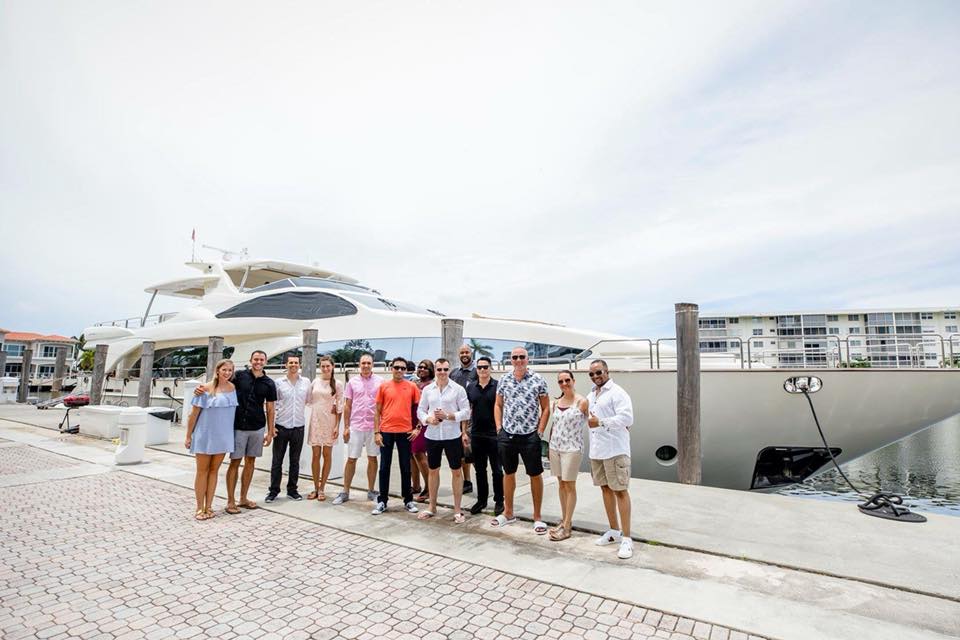 In this post I'm going to walk you thru the steps of starting from the scratch.
How to Start Affiliate Marketing?
Choose your Niche
Choosing a niche is like the foundation of your affiliate marketing career. A niche will help you decide what kinds of products you will sell and what type of content you would manage on your website.
To pick your niche, decide what excites you the most. What are the things that you love doing even though you are exhausted? It could be creating a painting or clicking pictures. It could also be baking delicious cookies, or reading books.
The thing that separates you from most of the people could be your niche. There is no formula or benchmark of niche to be the good or the bad. You can choose any unique niche and sell relevant products.
If you are good at a couple of things, then you might get confused as what niche to choose. You can write down the things that you like and make a research of the products available online that you can sell.
If you have multiple options to choose from, the best for you is to go with the niche that can give you a major boost in profits. Research about the affiliate programs related to your niches and determine through which way you can generate more profits.
Create a Website for Affiliate Marketing
In the mainstream market, you can open your departmental store or a warehouse where you can sell the goods. In the digital world, you will need an entity that can help you sell the products online. A website can give you that desired a platform.
Through website:
Users would engage with your content
Read and understand about the particular product
If they find the product helpful, they will buy through your website
You will have an affiliate link of that product which you can place on your website
Users would click on the link and redirect to the manufacturer's website
The manufacturer will track the purchases after a few weeks and give you the commission
For all the activities mentioned above, a website can help you accomplish your goals as it has the power to establish your brand and develop a thriving affiliate marketing business for you.
As a beginner, look for reliable and cheap domain and hosting providers. Then, research about the content management systems. WordPress might be the best for most cases.
Sign up For Affiliate Programs and Networks
A publisher creates an affiliate program through which website owners get paid for the number of sales they have generated for publisher's products.
An Affiliate network works as the bridge between the webmasters and the affiliate programs. The network eases the hustle of finding relevant affiliate programs for the website owners.
Amazon Affiliate Program is the most renowned affiliate program out there. You can go to Amazon's Affiliate Program and start selling products listed on the most famous eCommerce website.
Research what kind of programs you are signing up for. There are certain programs which give up to 50% commission to the website owners. So, based on your niche, you need to find out the most lucrative programs or networks that would help you monetize your effort.
Write Persuasive Content
Observe your internet habits. Everything that you consume online is one of the forms of contents only. It could be video, blogs, articles, podcast, etc. So, after deciding your niche and building your website, you have the most important aspect of your affiliate marketing journey — publish great content on your website.
Based on the niche that you've chosen, you will get the idea of what kind of products you can sell online. Then you can decide what kind of products you can review on your own and publish blogs or review of the posts.
For example, if you are selling a microwave oven or kitchenware through affiliate marketing. You can not only write a detailed product review but also publish a blog on such niches.
You can write about how to make a perfect cake for your kids' birthday. In the article, you can share the procedure of the dish and showcase how the oven and other relevant kitchenware helped you in cooking.
This way, your content, and product placement would look natural. Users can also know how a certain range of kitchen accessories can help them.
If you are selling health supplements, you can create a case study or publish a real-life example of someone who used the protein powder and achieved the best healthier version of himself. This way, you can review the product and subtly promote them to encourage users to buy from your website.
Make a Plan for Promoting Your Website
Don't just sit in front of your screen after clicking the publish button. After posting content, don't expect that people would randomly start finding your content and the sales would be generating automatically after some time — just because you have published great content.
In the digital world, even though you are great at what you do, your work should be shown to the relevant people at the right time to complete sales.
Hence, plan to promote your content online so that people would read, engage and convert from the same.
There are dozens of ways you can promote your content. PPC, social media, search engine optimization, and email marketing, are some forms of leading marketing channels to showcase your products.
You can also go for influencer marketing and content marketing platforms if you have a relevant niche and you can spare some money for the same.
What are The Best Tools for Affiliate Marketing
Just like a warrior needs great arsenals to fight in the war; an affiliate marketer should have a handful of tools to ensure productive routine and maximum success.
Below are The Best Tools for Affiliate Marketing
Get a Robust Web Hosting
Web hosting is a virtual storage where you store or host your content and materials to run a website. A relevant hosting can help your website run smoothly and let you attend your users effectively.
You can decide what kind of hosting would you require for your website. It could be shared or dedicated hosting based on your requirement. In shared hosting, there would be multiple websites running at a time on a single system.
The server load time will be calculated as the load generated by all of the websites in shared hosting. Moreover, you cannot access all the functionalities of a server if you are on shared hosting. Conversely, dedicated hosting allows you to access the full potential of a server for your website.
GoDaddy, Hostgator, Bluehost, A Small Orange, are some of the leading hosting service providers which you can check to host your website.
I personally recommend Bluehost (check it out)
A smart way to purchase a hosting is on a special occasion. During the time of Black Friday and Cyber Monday, these hosting providers give major discounts.
Moreover, at any given time, you can search online about the coupon and voucher codes of these service providers so you can save maximum money.
Before going for any hosting provider, you can check the value-added offers like free email accounts, one free SSL certificate and so on.
Tracker
As the name goes, a tracker helps you verify your efforts and number in Affiliate marketing. Trackers can track, automate your affiliate marketing campaigns and also give you advanced reports based on their analytics platform.
You will need the data to understand how your content in performing online. Would you be able to bring more people to click your links, how many conversions did you make through the link?
Trackers will give you a reality check of your affiliate marketing efforts and make you realize through a number that how your campaigns are performing at the end. How many people did click on your link but did not purchase the product.
I personally use CLICKMAGICK to track all my stats.
These metrics are key to strengthen your activities and improve your affiliate income in the long run.
Although you can integrate Google Analytics on your website, you would still require more robust platforms which could allow you to observe user interactions to generate profound affiliate marketing results.
Before purchasing any tracker, check the reviews of the product to know what other affiliate marketers felt when they used the tracker. These trackers also have a monthly and yearly subscription cost which you, as the user, have to pay for using the services. So, also ensure that you are investing your hard-earned cash into something worthwhile.
Check if the tracker is available for demo/trial period because you need to understand if the tracker is easy to use. Through the demo of the product, you can know the look-and-feel of using the product and make confirmed decisions.
Otherwise, your money would be wasted, and you will end up finding another relevant tracker to make your job easy.
The set of features is also one of the important elements for purchasing tracker. Check the tracker's website to verify if you are getting all the features that would help you improve your affiliate marketing campaign.
Themes
As already discussed, WordPress would be the ideal choice to manage your website effectively. The UI of WordPress, as a CMS, makes your work quicker. From editing your webpages to adding forms at certain pages, you can manage your website even though you don't have a technical background.
A theme, installed through the CMS, will give your website the basic structure and user-interface. It will give the layout of how your webpages would look like, what will be the orientation of the images, etc.
A theme must be loaded instantly and makes the navigation of your website easy to understand for the visitors.
There are many unique and premium WordPress themes which are highly customizable and satisfies the purpose. GeneratePress is one of our favorite WordPress themes because it serves the purpose and makes everything looks perfect on the website.
There is a free version of this multipurpose theme. However, if you are an active affiliate marketer, you must go with the premium version where the developers of the theme charge around $50/year and let you access all the features of the theme.
The developers of the GeneratePress claim that their code is less than 30KB in size. You can build pages of your wish and make a user-friendly website.
Plugins
Plugins are the segments that add a feature in your website. As the themes can make your website look attractive and elegant, a plugin adds the functionality to your website and provide effective and robust content management.
You can do complex and time-consuming tasks in minutes with the right kind of plugins. For SEO, forms, table, image optimization, URL, canonical tags, you will get relevant plugins that would make your job easier and fun.
Productive software
As an affiliate marketer, you need to be focused and organized about your work. You should have a clear list of goals and objectives which are your every day stepping stones to build a thriving affiliate marketing business.
Moreover, in your affiliate marketing business, you must collaborate with professionals like designers, developers, writers, and marketers to get things done more quickly.
So, team management might also be a challenging task if you don't maintain a robust structure of your workflow.
Trello is a free software that helps maintain productivity and work collaboratively in a virtual team environment. Trello has the cross-platform compatibility which makes it accessible through mobile and desktop.
Trusted by the leading brands like Google, National Geographic, and Adobe, Trello helps you prioritize and assign the tasks to your team members effectively.
Best Routine For Affiliate Marketers
Here's one of my podcasts where I share the best way an affiliate marketers needs to use their time.
Conclusion
After everything, keep a note that affiliate marketing takes time. You need patience and constant effort from your side to make your business a thriving success online.
Keep in mind the ideas discussed in and the tools mentioned to enjoy the unique business model and develop another mainstream income for yourself.
If you are also an affiliate marketer, do share your views in the comments about the ideas discussed in the article.